Consumer goods: Consumption takes centre-stage
By Marthy Barmejo | Vjmedia Works | July 11, 2014
Soaps, TV sets and footwear to get cheaper; imported electronic goods, aerated drinks, cigarettes to cost more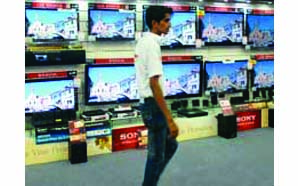 Consumer goods companies - barring cigarette and soft drink makers - have reason to cheer. Finance Minister Arun Jaitley walked the talk on boosting domestic consumption and manufacturing in his maiden Budget speech on Thursday, emphasising that he was keen to do everything possible to get the economy going.
Jaitley laid out his road map indicating his hope of rolling out the long-impending goods and services tax this financial year, pushing agricultural reforms, bringing down food prices and allocating funds for warehousing.
However, there were other measures he undertook which are expected to make products such as soaps, TV sets and footwear cheaper. Precisely, Jaitley brought down customs duty on inputs such as fatty acids and palm oil used in the manufacture of soaps to zero from 7.5 per cent. Customs duty on one more input - crude glycerin, which is also used in the manufacture of soaps - has been reduced to zero from 12.5 per cent.
The customs duty on picture tubes, used in the manufacture of conventional television sets that are widely used in rural areas, has been exempted from customs duty. Besides, the 10 per cent customs duty on LCD and LED TVs below 19 inches has been reduced to zero in a bid to boost domestic production of these units.
The excise duty on footwear priced between Rs 500 and Rs 1,000 has been reduced to six per cent from 12 per cent, while excise duty on food processing and packaging machinery has come down from 10 per cent to six per cent.
The minister has also levied an education cess on imported electronic products in an endeavour to give a fillip to locally-produced goods, besides emphasising that the six-month extension of the two per cent excise duty cut announced last month on consumer durables would spur demand for these products.
Clearly, companies across the board - from Hindustan Unilever to Bata, Britannia, Nestle, GSK Consumer, Godrej Consumer, Videocon, Onida, Samsung, LG to Whirlpool - will benefit from these measures.
Anirudh Dhoot, president, Consumer Electronics and Appliances Manufacturer Association (CEAMA), and director, Videocon, said: "The finance minister has brought cheer to the consumer durables and home appliances sector with the announcements made today (Thursday). Not only does the Budget aim to encourage manufacturing in the sector, but the measures will boost consumption as well." R S Agarwal, joint chairman, Emami, said. "The Budget has managed to address many concerns that have been raised frequently in the past by both industry and common people. It is aimed at expansion of the country's economy and develop a future roadmap for growth."
Y C Deveshwar, chairman, ITC, said: "Within the constraints of time and a challenging economic environment, the FM has presented a comprehensive Budget, which addresses some key reforms with a welcome focus on physical and social infrastructure. This should put in place the drivers for long-term growth, whilst meeting some of the critical needs of the weakest in society." Ironically, ITC along with Coca-Cola and PepsiCo bore the brunt of Jaitley's move to tax 'unhealthy products'. Excise duty on cigarettes has been increased in the range of 11-72 per cent in this Budget, the third consecutive round of excise increase in recent years. Aerated drinks, on the other hand, have an additional five per cent excise duty levied on it. While ITC, Coca-Cola and PepsiCo did not immediately react to the finance minister's measures, analysts expect prices of these products to rise in the near term.