Croma schemes to make buying gadgets easier
By Mahesh Agarwal and Yogesh Agarwal | Vjmedia Works | July 03, 2015
Croma is also looking at launching a service called'endless isle' where shoppers are shown products of brands that are not available in stores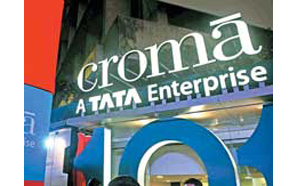 Faced with a slowdown in consumer offtake and intense competition from e-commerce portals in gadgets, Croma, Tata Group's durable and electronics chain, is looking at launching longer-term installment schemes and new online services to perk up sales.
The chain recently rolled out 24-month EMI (equated monthly instalment) schemes in partnership with group company Tata Capital and is working on 36-month schemes. E-commerce portals such as Flipkart offer 24-month schemes.
"This way we can improve the affordability of our customers," said Avijit Mitra, appointed chief executive of the chain in May. "There is a slowdown in customer offtake post Diwali. It will come back but the question is when?" he said.
Croma is also looking at launching a service called 'endless isle' where shoppers are shown products of brands that are not available in stores. Customers can order such items online at stores and get these delivered at home. The chain has already piloted the service at two stores in Delhi and will launch it at other stores by August.
Croma is also offering order online and pick up somewhere express delivery services. It has also launched its brand stores on Snapdeal, Amazon and other marketplaces, Mitra said. The chain will open 10 stores in Delhi, Hyderabad, Mumbai and other cities in FY16.