'CX when done right, can unlock greater productivity, increased revenue'
By Retail4Growth Bureau | September 19, 2023
The inaugural edition of Team Marksmen Network's CX Transformation Conclave highlighted the business case for and finest exponents of great CX .
India's CX landscape is dynamic and evolving, with India ranking third globally and leading the way in the Asia-Pacific region when it comes to CX maturity according to research, and the inaugural edition of Team Marksmen Network's CX Transformation Conclave, held on 15th September 2023 in Mumbai, highlighted how CX can be holistic, focused, and clearly linked to business outcomes.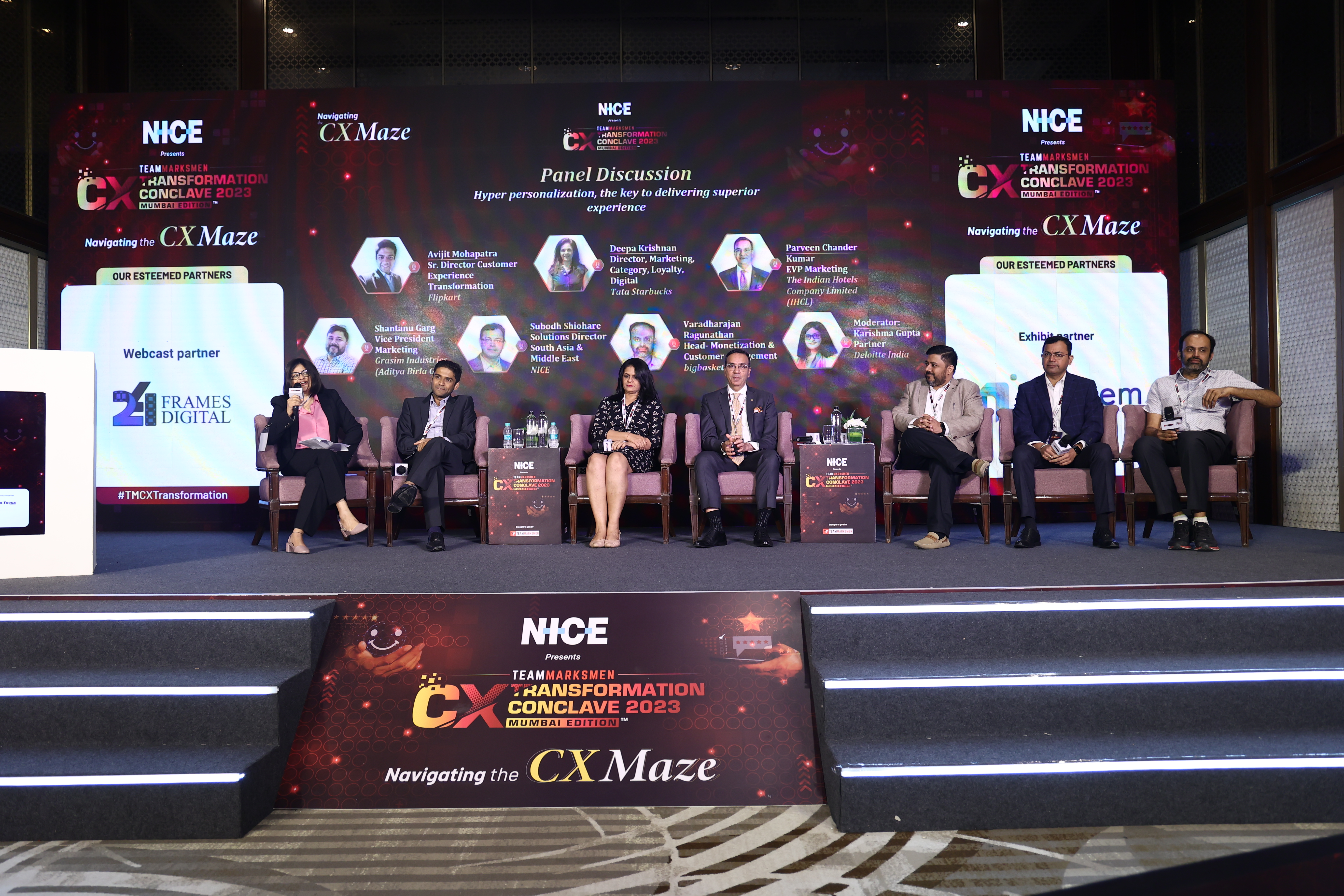 By convening senior industry leaders and experts from across the globe to deliberate on the nature of CX, this breakthrough conclave highlighted how the nature of innovation and the ethos of customer centricity is one that transcends boundaries, cultures, and organisations. The speaker line-up included:
Brad Cleveland, Author, Leading the Customer Experience
Sanjay Gupta, VP – South Asia and Middle East, NICE
Parag Lokhande, EVP, Head Analytics & Strategy, Kotak Securities
Sunil Mathur, EVP Head Analytics & Marketing, HDFC Bank
Jayant Jain, Vice President, Marketing & Customer Services, Head Loyalty & Shopper Insights, Reliance Retail Ltd.
Vaibhav Rao, Regional Director Customer Experience (CX), Pfizer Asia
Uday Bhosale, Head of CRM & Escalations Management, Eureka Forbes
Peter Jayaseelan, VP & Managing Director (South Asia) and Head- APAC (Public Sector Business Unit), Jabra
KV Dipu, Senior President, Bajaj Allianz General Insurance
Shep Hyken, Customer Service and CX Expert
Shubhranshu Singh, CMO, CVBU, Tata Motors
Ruchir Bhatnagar, Executive Vice President, Customer Development, Colgate-Palmolive (India) Limited
Ashish Himthani, Head Customer Service Experience & Quality, Tata CLiQ
Avijit Mohapatra, Senior Director Customer Experience Transformation, Flipkart
Deepa Krishnan, Director - Marketing, Category, Loyalty, Digital, Tata Starbucks
Parveen Chander Kumar, Executive Vice President – Sales and Marketing, The Indian Hotels Company Limited (IHCL)
Varadharajan Ragunathan, Head- Monetization & Customer engagement, bigbasket
The event was also witness to an exclusive industry recognition, Masters of CX, which celebrated companies that have thoughtfully crafted CX rooted in purpose, delivering human-centric experiences that fully leverage innovation and maximise joy and engagement.
Those recognised in a glittering recognition ceremony included:
Bajaj Allianz General Insurance Co. Ltd.
big basket
Canara HSBC Life Insurance
Colgate-Palmolive (India) Limited
Eureka Forbes
Flipkart Internet Pvt. Ltd.
Future Generali India Insurance Company Ltd.
Haier Appliances India
HDFC Life Insurance Company Ltd.
IIFL Securities Ltd.
IndiaFirst Life Insurance Company
ITC Limited
Renault India
South Indian Bank
State Bank of India
TATA CLiQ
Tata Starbucks
Vistara
By getting the building blocks of CX right and adding a layer of innovative thinking in line with the demands of the current consumer, these are the brands that have cut out the hyperbole and demonstrated hyper-growth, says the statement. This unique initiative was steeped in research and shaped by insights gleaned from an industry-wide consumer study conducted by LeadCap Ventures.
Offering his thoughts on the sidelines of the event, Akash Tiwari, Co-Founder and CMO, Team Marksmen Network, said, "CX is fast becoming a key competitive area. Faced with the challenges of a dynamic and demanding business environment, organisations can't afford to drop the ball on the CX front. It simply must be a strategic priority, for it is a major opportunity for businesses. Done right, it can catalyse loyalty through personalised customer journeys while unlocking greater productivity, increased revenue, and improved job satisfaction, to name a few upsides. The conversations we had at the CX Transformation Conclave revealed deep insights on the nature of this realm, and the Masters of CX upheld the finest exponents of this craft as the apogee of their respective industries. We salute their spirit, and hope it serves to be inspirational for others of their ilk."