Dabur net up 12%, sales growth disappoints
By Dinesh Jain | July 28, 2016
CEO Sunil Duggal blames demand slowdown and intensifying competitive pressures in the domestic market as well as the deteriorating geopolitical situation in West Asia and Africa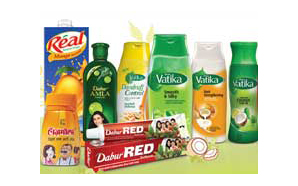 Consumer goods major Dabur India reported a 11.8 per cent increase in net profit to Rs 293 crore for the June quarter against Rs 262.46 crore in the quarter a year ago.
Net sales, however, was sluggish, up 1.2 per cent to Rs 1,924 crore versus Rs 1,902 crore a year ago. Both net profit and net sales were below Street estimates by 2.6 per cent and 15.3 per cent, respectively. A Bloomberg poll of 10 analysts had pegged net profit at Rs 301 crore, while net sales was estimated at Rs 2,271 crore.
Dabur's domestic fast-moving consumer goods business, which gives the company about 63-65 per cent of its revenue, was flat, growing 0.5 per cent only for the June quarter. Volume growth for the domestic business was four per cent for the quarter under review, lower both sequentially (seven per cent ) and year-on- year (8.1 per cent).
International business, which contributes about 34-35 per cent to Dabur's topline, grew only by six per cent. Key contributors to international business growth included Egypt, Nepal and Turkey.
On a constant-currency basis, Egypt grew 25 per cent, Nepal 27.4 per cent and Turkey 17.5 per cent, respectively. But, markets in the West Asia and Africa, where Dabur had a significant presence, struggled this quarter, analysts said.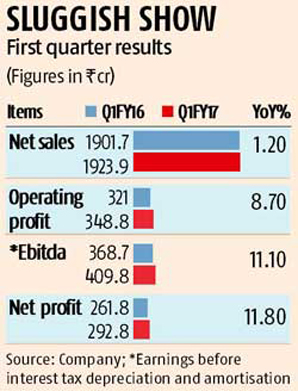 Dabur's chief executive Sunil Duggal blamed the demand slowdown and intensifying competitive pressures in the domestic market as well as the deteriorating geopolitical situation in West Asia and Africa for the weak set of numbers reported for the June quarter.
"We are pursuing a prudent growth strategy and have taken steps to efficiently manage the emerging risks and challenges as well as protect our turf in the face of intensifying competitive pressures," Duggal said.
Dabur's earnings before interest tax depreciation and amortisation (Ebitda) grew 11.1 per cent, aided by other (non-operating) income of ~61 crore. In the year-ago period, other income was ~47.7 crore only.
Operating profit alone grew 8.7 per cent for the quarter, aided mainly by lower advertising & sales promotion expenditure (down 12.5 per cent year-on-year) and material costs (down one per cent year-on-year). Other expenses, which includes distribution costs, also saw sluggish growth of 3.8 per cent only for the June quarter over the year-ago period.
Stock price dropped nearly one per cent to Rs 297.65 per unit on the BSE soon after the results were announced during afternoon trade today. It subsequently stabilised to close the day at Rs 307.5 per unit, up 1.37 per cent over the previous day's.