Dazzling where the big boys failed to shine
By Shri Dada Gujar | Vjmedia Works | December 09, 2013
Bluestone.com is trying to bridge the gap between online jewellery purchases and the pleasure of browsing through physical jewellery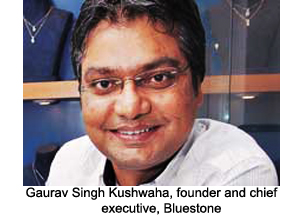 Pooja, 25, had won Rs 20,000 as a token of appreciation for completing three years at an auditing firm, a welcome return for many long days spent at the office, handling client queries and tallying balance sheets, sometimes at the cost of missing parties and weekend trips with friends. Therefore, the cash award had to be metamorphosed into something precious, perhaps a light piece of jewellery for daily use.
Minutes later, she was browsing through 600 varieties of pendants on online jewellery portal Bluestone.com. About 200 designs suited her budget. One hundred and sixty-four designs and several hours later, she made the purchase.
Scores of working women visit Bluestone.com every month, looking for jewellery for daily use. The company invites consumers wary of making high-value purchases online to try its services through a full-refund guarantee for a 30-day period.
In the e-commerce market, Bluestone.com founders Gaurav Singh Kushwaha and Vidya Nataraj saw an opportunity for a relatively untouched category such as jewellery. This way, high maintenance and inventory costs and other logistical challenges faced by traditional brick-and-mortar jewellery retailers could be avoided. Started in April 2012, the website has annual revenue of Rs 35 crore. It expects to break even and record revenue of Rs 120 crore in 2014-15.
"There are a number of variable and logistical factors in it, which will prevent horizontal players such as Amazon or Flipkart from making this just another tab on their website," says Kushwaha. "If any entity has to crack this category, it has to be a jewellery brand."
Bluestone.com, which sells earrings, pendants, rings, bangles, etc, has a collection of about 2,000 designs. The website also runs a gold deposit scheme, through which consumers can pay monthly instalments. Sold items are bought back or exchanged by the company at 80 per cent of the day's market price, under a lifetime exchange policy. Every Monday, the company introduces about 20 designs.
Kushwaha and Nataraj found favour with venture capitalists Accel Partners, Saama Capital and TutorVista's Ganesh Krishnan and Meena Ganesh. Armed with a total of $5 million from these sources, the duo started New Age E-Commerce Services Private Ltd in July 2011.
"Not just the idea, we were impressed by the management team, too. Vidya brought jewellery and retailing experience, while Gaurav brought e-commerce and search engine marketing and optimisation experience," says Suresh Shanmugam of Saama Capital.
Kushwaha, a computer science graduate from Indian Institute of Technology-Delhi, was one of the first 10 employees at Amazon India, which bred the minds behind Flipkart.com, Infibeam.com and Bankbazaar.com. Vidya Nataraj is from the Landmark Group family and is married to the managing director of jewellery retailer C Krishnaiah Chetty & Sons.

Lucrative category
The choice of category might be a reason for the company's success. The category offers immense scope - it has a high ticket-size, by virtue of its value, and there is a dearth of larger competitors. Add to that a jewellery-crazy country that considers gold a basic investment. "Though e-commerce is still at a nascent stage in India, online portals selling jewellery are likely to break even faster than other categories because the unit costs are more favourable," says Prashanth Prakash, partner at Accel Partners, which has invested in Facebook, Groupon and Flipkart, among others. "In other consumer categories, the economics of the game are challenging but the large ticket-size in jewellery solves that problem."
Bluestone.com's average order size is Rs 14,000 and the company sees an average gross profit of 22 per cent on each unit, says Kushwaha.
Accel's Prakash adds the jewellery category is attractive for entrants. However, high inventory costs and tough logistics raise the entry barrier to a large extent.
Another Bluestone.com investor, Saama Capital, shares the confidence in this category. "Jewellery is very close to an Indian's heart. Clearly, there was an opportunity in the segment of the (studded jewellery) market for a player to come in and develop a branded product that could be sold online, at more affordable price points," says Shanmugam.
Cautious foot first
At the beginning, Bluestone had made a few cautious decisions. These involved deciding not to go the Amazon way. "We follow a complete in-house model, in which we design the product, determine sellability, make a prototype in a cheap metal coated with gold and put up the picture of the product online only when we are ready to take an order," Kushwaha says. The actual product is not made until there is a confirmed order for it. Prototypes ensure experts at the company can determine whether a product can be sold at a profit. Once an order is placed, Bluestone's Rs 2-crore manufacturing arm in Mumbai sets about converting it into a product. Since most of the jewellery-making process is manual, Kushwaha says the company doesn't lose any efficiency by not following the traditional process of batch manufacturing. "The margins from such a model are far superior to a traditional player and when you place an order online, you also have the benefit of not having to bear tearing inventory costs, as it is made to order. From a working-capital standpoint, that is very efficient," says Shanmugam.
"From the start, we did not venture into gold coins because that isn't viable in the long term due to the low margin. It makes more sense for the headquarters of a bank to move the coins to its branches, where it can be sold for cash," Kushwaha says.

Bridging the gap with offline
Higher-value products that account for high margins are purchased in small numbers, as consumers are hesitant to spend on heavy pieces of jewellery without seeing the physical product. Global players such as Amazon and eBay, along with India's own Flipkart, have failed to achieve much success in this category, despite being successful in others. To allay this apprehension, Bluestone.com introduced guide stores in five cities across the country. Customers can select a piece of jewellery online and make a request to see it in a guide store. The Bluestone team says the guide stores have a conversion rate of 70 per cent.
A similar model has been followed by Z-bird.com, a Chinese online jewellery brand started in 2002. In two years, the company moved to a mouse-plus-cement model and opened its first experience centre in 2004, in addition to its online business. Within three years, the company's sales broke the renminbi 100-million mark.
Accel's Prakash, who has invested in Bluestone.com, says the guide stores not only allay concerns about products, but also encourage loyalty. Bonobos, Accel's North American online men's retail brand, witnessed a large increase in sales after a try-on store was launched, he said.
Bluestone has also gone a step further to offer free home trials. According to Kushwaha, the average bill value of a home trial is Rs 45,000, helping the company recover the cost of sending one of its personnel to the house of a buyer. The facility is available only in five cities - New Delhi, Mumbai, Hyderabad, Bangalore and Chandigarh.
Bluestone's closest competitor, Caratlane, started in 2007 (about five years before Bluestone) with $6 million in funding from Tiger Global, operates on a fairly similar business model. The Chennai-based company, the first big name in the category, clocks revenue of over Rs 100 crore annually, had opened its first Solitaire Experience Lounge in 2012. It has raised $27 million and is in the series-C stage of fund-raising. The bulk of this funding has come from Tiger Global, an investor in the company since inception.
Caratlane, too, offers a 30-day return and home trial options. It has three experience stores in the country - in Hyderabad, Delhi and Chennai.
"Overcoming the hesitation to shop online for jewellery is part of the behavioural change happening in the country. However, we have seen the company do its bit in terms of getting certification, a 30-day return guarantee and others. Besides, our focus is on lighter, everyday-wear jewellery, which people will be more comfortable purchasing online," says Shanmugam.
EXPERT TAKE: Naved Ahmad
I think these are early days for Indian urban consumers to buy jewellery online but conversions are happening exponentially, especially among the middle-class working women in Tier-I and Tier-II cities who cannot access non-traditional work/fashion jewellery easily. I feel a lot of traffic on the site is to browse designs in the first few visits. The transition from browsing to shopping is the key. A highly adaptive, versatile approach will be essential if the brand has to achieve critical mass. The offering is rich and the promotions on the site grab attention. But identifying important consumer insights and conceiving sound strategies to exploit these is the only way to connect with consumers at a deeper level.
It will be a mistake to try and import a strategy for online jewellery shopping and implant it in India. But if we dig deeper into the Indian consumer's mind and discover what makes her unique, online jewellery shopping can be dressed as a viable, preferred option, at least for the mass-market. Overcoming the quirks of India's e-commerce market such as cash-on-delivery addiction, insurance and secure transport of merchandise will add costs. But there is an opportunity for fast growth if the maths is done and cards are played right. Here's the chink in Bluestone's armour: Initially, an online retailer will compete with established, high-street brands. Also, the convenience of online shopping is pitted against the pleasure of browsing real jewellery. I think for Indian women, the sheer pleasure of jewellery shopping is an important part of the experience. To overcome this, Bluestone has already invested in creating touch-and-feel opportunities in the shape of small stores. Once consumers enjoy both online and offline experiences simultaneously, they will accept the brand more readily, which will add to the trust and credibility of the brand. If Bluestone or any other online jewellery brand has to sustain, it must differentiate itself beyond mere advertising creativity. Since barriers to entry in online retailing are low, the only way to protect market share and grow is by integrating unique features in the business model. It could be as simple as giving a 3D view of the product on the site or as complex as starting a free wedding consultancy.
Naved Ahmad is an independent brand & communications consultant and has advised jewellery brands like Tiffany, Damas & Diatrends