Disney wants to capture the grown-up imagination
December 05, 2014
Putting Mickey and Minnie Mouse motifs on sarees from Satya Paul, Disney is experimenting with its most successful consumer products business in India - adults fashion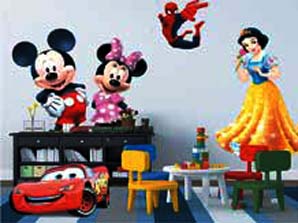 'Is that Mickey Mouse on your saree?' is a question very few would have imagined they would get asked. Even the ardent Disney fans, including grown-ups, would be wont to think they would find Mickey Mouse and friends or other Disney characters and of course, the Marvel superheroes, on casual college wear and accessories when it comes to adult fashion, besides the expected school gear and toys.

However, the tie-up that Disney India's licensing arm has done with designer house Satya Paul would soon see sarees (starting at Rs 11,995), tunics and scarves (Rs 2,995 upwards) bearing instantly-recognisable motifs of Mickey and Minnie Mouse (mouse ear, white-on-red polka dots). Like most of its licensing deals, this too, is a revenue-sharing one, with marketing duties borne by both.

Disney regards this as a showcase project that highlights the span of its characters' timeless appeal, while Satya Paul says reiterating the Disney motifs would be helped by the design house's expertise in prints.

"Disney is thought of as a family brand and its consumer products are what you can take home. When kids grow up to become parents, they remain fans. So, cuts across generations. Also, with Marvel (comic-book superheroes like Batman) and Lucasfilms (Star Wars) and Disney's own characters, we have seen adult fashion gain ground in India among the youth," says Abhishek Maheshwari, vice-president and head, consumer products, Disney India.

Sanjay Kapoor, managing director, Genesis Colors, holding company of Satya Paul, "The pricing has been kept more aggressive (lower) than other Satya Paul lines to make it more affordable for a young audience. The sarees with a modern twist leverages our strength in print."

The American entertainment giant, with presence in broadcasting, film-production and licensing (or consumer products) in India, has been working on building up its licensing portfolio over the last two years. The licensing business spans four of Disney's brands - Disney Classics & Entertainment, Pixar Animation Studios, Marvel and Lucasfilm.

The consumer retail sales (which then get divided according to the revenue-sharing terms) is around Rs 1,000 crore. The Walt Disney Company, the parent of Disney India, is the largest retail character licensor in the world with $45 billion in character merchandising retail sales globally in 2013.

While globally toys rule its consumer products business, in India, it is fashion that brings in the moolah with around 40 per cent (kidswear, footwear, accessories and adult fashion), of which adult fashion comprises over 20 per cent. "In all emerging market, the consumption basket is similar, we would rather spend more on clothes than toys." The others categories like toys, stationery, publishing, home furnishing and food would be between 10-20 per cent each.

e-Commerce portals have played a major role in Disney's traction in apparel accessories. Maheshwari says players like Myntra has done well for it, while the current Satya Paul line would be exclusively sold on Jabong. He says, "When people wear characters, they want to be seen as they like to be seen as wearing their attitude. So, all kinds of topwear - T-shirts, sweatshirts, hoodies - work best. We have interesting designs on shorts and chinos as well. Accessories such as bags and flip-flops too do well."

Offline, the clothes and accessories of the current line would be available at the 10 flagship Satya Paul stores across metros till February, after which Maheshwari says it would be time to mull a new line.

Producing a feature film like Khoobsurat, ramping up its focus on adult fashion, Disney is oncourse to recapture the imagination of the Indian children who grew up.