DLF Brands signs on new names to hone focus
By Chaitanya Muppala | Vjmedia Works | February 03, 2014
Trailing other multi-brand licensees, the company is entering the beauty segment, even as it opens only single-brand stores to reflect a distinct positioning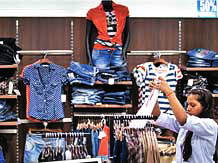 DLF Brands is putting its chequered past behind by signing up new brands. The new business would also sharpen its positioning, the lack of which, analysts say, has hampered its growth. Co-owned by DLF, the realty firm, and its promoters, DLF Brands' recent foray in cosmetics could be a vital piece in the company's strategy puzzle.
Entering the beauty segment for the first time, Timmy Sarna, the managing director of the company and son-in-law of DLF chairman, the octogenarian, Kushal Pal Singh, says, "It is growing fast. Brands will give us the support and we will jointly run it.
"DLF Brands which runs stores of Mothercare, Forever 21, Mango among others, is signing a joint venture with the Italian cosmetics brand Kiko next month.
DLF Brands has already signed a franchisee agreement with French fashion house LVMH's beauty products retailer Sephora, which earlier had an agreement with the Delhi-based Genesis Colors. Genesis Colors has a similar model of handling multiple brands either through franchising, licensing or joint-ventures as followed by DLF Brands. Others include Reliance Brands of Reliance Industries and Arvind Brands.
DLF Brands expects revenues of over Rs 500-600 crore from both the beauty brands in the next five years, even as it looks to become a Rs 1,000-crore company in the next three years. Retail consultant Prashant Agarwal, deputy managing director at Wazir Advisors, believes it is a logical extension for DLF Brands to get into beauty, as it already has experience in running apparel and lifestyle stores. Moreover, he says that "since the company is connected to DLF, it can leverage the retail space the company has".
"Brands help us with merchandise selection while DLF finds locations, helps build and run the stores," Sarna says. Sarna concedes that the association with DLF also helps in bagging partnerships with international brands.
However, the partnerships could have been easier if DLF Brands found itself a niche to work in. Agarwal says it has not been able to create a clear segmental focus unlike Reliance Brands or Arvind Brands. "DLF Brands runs the danger of having to wait for international brands to trickle down to them from other players, due to the lack of clarity," says Agarwal.
Reliance Brands straddles three upper-end segments with brands such as Quicksilver and Timberland in super-premium, Diesel and Thomas Pink in affordable luxury (average price-point of Rs 8,000-10,000) and Ermenegildo Zegna and Paul & Shark (price-points from Rs 15,000) in luxury. Arvind Brands operates primarily in three apparel segments - value (Cherokee), premium (USPA, Arrow) and super-premium (GANT and Tommy Hilfiger). Genesis which has the first-mover's advantage in bringing in a phalanx of luxury brands handles 14 luxury brands including Armani, Burberry, Canali and Jimmy Choo.
But new brands and rationalisation over the last few years point to DLF Brands' trying to sharpen focus on the mid to premium brands space. Kiko too operates in the mid-segment. "Kiko's products are half the price of those from a brand like MAC," says DLF Brands CEO Deepak Agarwal. The prices would be between Rs 200 and 2,000, he says.
About two years ago, DLF Brands ended its joint-venture with Italian luxury fashion brand Giorgio Armani, marking its exit from the luxury space.
The company also ended the franchise agreement with Italian brand Alcott last year as it was not doing well and reduced the size of its home furnishing stores Pure Home + Living. It has also scaled back its multi-brand stores called AVE.NUE.
It is also focusing on single-brand stores. Sarna says, "We want to open specialised, single-brand stores in cities." DLF Brands is planning to open 65 stores for its brands such as Mothercare kids and marternity-care, Forever 21, Claire in cosmetic jewellery and Sunglass Hut this year.
Focusing on mid-tier lifestyle brands in standalone stores has paid off. Its tie-up with fast fashion brand Forever 21 has clocked a business of Rs 100 crore in the first six months of launch. It is claimed to be doing a per-square-feet sales of Rs 43,000 and closing in on Zara. Sarna also claims that Mothercare stores are doing brisk business. Sarna says that like-to-like growth of the portfolio's brands have been in the range of 15-20 per cent.
While Genesis is reported to have clocked around Rs 300 crore with its total of 21 brands in 2013-14, Sarna says DLF Brands will cross Rs 300 crore 2014 and Rs 500 crore in 2015. "Ninety per cent of the company's 150-odd stores are profitable," says Sarna.
Sarna claims that three of his brands - Mothercare, Sunglass Hut and Claires - have already done so and DLF Brands itself is expected to turn profitable this year, its fifth year of operations.