Fashion brand Zara cuts prices by 10-12%
By Chaitanya Muppala | May 02, 2016
Zara prices are 30% higher than H&M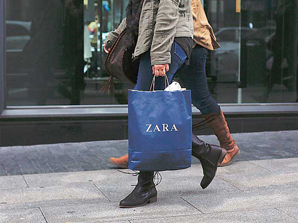 Spanish fashion brand Zara has cut its merchandise prices by 10-12 per cent to make it more affordable for Indian buyers, said sources in the know.
The cuts were initiated late last year to coincide with the entry of its arch rival H&M into India, sources added.
"There is a slight change in pricing but Zara has introduced wider merchandise," said a senior executive in a mall who declined to be identified.
Zara operates 16 stores in the country and is looking to open more in the coming quarters. Operational in India for the past six years, Zara has a joint venture with Tata's Trent here.
Although it has become the fastest fashion brand to achieve $100 million revenues, its sales growth has slowed.
IN COMPETITION
Zara prices are 30% higher than H&M
The entry price at Zara is Rs 2,200 apiece; for H&M, it is Rs 1,500
Zara has 7,013 stores in the world as of January, while H&M has about 3,900 stores in 61 markets
H&M and Zara are present in malls in the NCR. For instance, in Select City Walk, Delhi, and Mall of India, Noida, both are present
In Mumbai, H&M is planning to open stores in space adjacent to Zara in High Street Phoenix and in Phoenix Market City, Kurla, where Zara has a store
Zara has 16 stores in India, while H&M has three
According to the Trent annual report for FY15, Zara's sales in India were down from 43 per cent in FY14 to 23 per cent in FY15.
According to the executive cited above, Zara's prices are 30 per cent higher than that of H&M. "The entry price at Zara is Rs 2,200 apiece, but the same is Rs 1,500 in H&M. So, Zara wanted to be a little more affordable when its biggest rival entered in India."
When contacted, a spokesperson of Inditex, which owns the Zara brand, said: "Regarding our prices, we cannot confirm your premise. Inditex sets the prices at which it sells its products independently in each of its operating markets so that their commercial positioning is the same across the board: quality products characterised for their design component that retail at compelling prices. In this sense, our price policy has remained stable in the 90 markets where we are present."
After opening stores in October 2015, H&M has opened stores in Delhi, Bengaluru and Noida. It is looking to open stores in Mumbai and Mohali this year.
"But Zara has grown double despite H&M opening in India," the executive added.
Fashion experts said global brands are doing everything to succeed in the Indian market.
Prashant Agarwal, joint managing director at Wazir Advisors, said the overall discounting in apparel in developed markets is 15-16 per cent. In India, it has been five to six per cent so far. With all these international brands such as Gap, H&M and Zara, the same norms will apply, Agarwal said.
"There aren't many markets in the world where all the three landed at the same time. In a relatively small market that is not growing at best and with such severe competition, all these brands will do everything possible to garner market share," he said.
Added Jaydeep Shetty, CEO at fashion chain Mineral: "I do not think dropping prices is simply a solution to combat H&M. It's presumptuous to think that the Indian market cannot support both brands adequately. Zara has a fashion forward image globally as well as in India, vis-a-vis H&M. H&M has a higher 'disposable fashion' image and its clothes are cheaper."
He said H&M also has more basics compared to Zara as well as a better sell-through on knitwear, and a broader colour palette. "These are natural advantages in a market like India, which appreciates vibrancy in colours."
H&M and Zara are also present within the same malls in the national capital region. For instance, both are present in Select City Walk (Delhi) and Mall of India (Noida). In Mumbai also, H&M is planning to open in space adjacent to Zara in High Street Phoenix and within Phoenix Market City in Kurla where Zara has a store.
A source in Inditex Trent said the fashion market in India is large enough to accommodate many brands. "Seventy-five to 80 per cent of the market is unorganised and the brands are just tapping the switch from unorganised to organised," said the source.
Zara has 7,013 stores worldwide as of January this year. H&M has 3,900 stores in 61 markets.