Fashion chains post record sales as discounts disappear from e-tail
By Chaitanya Muppala | September 16, 2016
Pantaloons posts 16% sales growth in Q1 while Future Group's Central registers 10% growth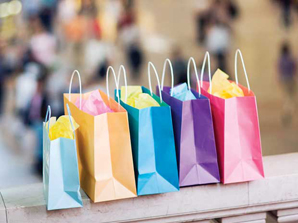 After their initial fascination with discount-dangling online fashion portals, shoppers seem to be back in brick-and-mortar stores. Future Group's Central and Brand Factory, Aditya Birla's Pantaloons and Trent's Westside have been posting record same store sales growth (SSG) in the last few quarters. It is a crucial yardstick in deciding performance of stores as it measures sales growth coming from stores which have been in business for a year or more.

Pantaloons posted a 16 per cent same store sales growth in Q1 FY17, the best since it was acquired by Aditya Birla group from Future Group four years ago.

Central, owned by Future Lifestyle Fashions (FLF), posted a 10 per cent growth in Q1 FY17, one of its best in the recent past. Similarly, FLF's retail segment, which includes formats such as Brand Factory, posted SSG of 10.1 per cent in Q1 FY17, almost double of corresponding quarter in FY16. Even Tata-owned Westside posted an eight per cent SSG in FY16, one of its best in recent years. While Raheja-owned Shoppers Stop posted over 8 per cent SSG in FY16, it posted around five per cent SSG in Q1 FY17. Shoppers Stop Managing Director Govind Shrikhande said SSG is a reflection of two factors - economic growth and base effect. "The overall market continues to be sluggish in Q1 and last year this quarter recorded a high double-digit growth. As a result of both these factors, we are seeing a growth number in low teens," he said. Shrikhande said the chain is expecting seven-eight per cent SSG in current financial year as it believes that second half would pick up.

Baqar Naqvi of Wazir Advisors said consumer spending has picked up after a gap of two-three years and the momentum is likely to continue in the second quarter. Naqvi said the reduction in discounts by e-commerce firms, mandated by government regulations as well as investor sentiment, has played a big role in shoppers' return to brick-and-mortar stores.

BACK IN BUSINESS
PANTALOONS: Posted a 16% SSG in Q1 FY17. Its best since acquired from Future Group four years ago, and best in the industry in recent times
CENTRAL: Owned by Future Lifestyle Fashions, posted a 10% in Q1 FY17, one of its best SSG in the recent years
BRAND FACTORY & OTHERS: A unit of FLF posted SSG of 10.1% in Q1 FY17 almost double of what it did in the corresponding quarter of previous financial year
WESTSIDE: Tata owned chain posted a 8% SSG in FY16, one of its best in recent years
"Thus, deep discounts are almost gone and the key lure for customers to buy online is much diluted," he said. Brands have actively worked to reduce the channel conflict between e-commerce and physical stores and have worked to curb predatory discounting by e-tailers. "They have understood that physical stores will be key to their brand building efforts and they cannot let them suffer," he added.

Future Group CEO Kishore Biyani said mega advertising by e-commerce firms helped in creating fashion and brand awareness. "Our fashion business has grown at a rapid pace over the past two years as more customers are coming to experience and buy brands within retail environments," he said.

Apart from some impact on footwear and perfumes segments, there was hardly any adverse impact on fashion retailing business because of e-commerce, Biyani added.

Tata-owned Trent in its latest annual report said that beside improving look and feel of stores, launching newer in-house brands such as Wunderlove (lingerie), Sassy Soda (fashion for young curvier woman) and StudioWest (cosmetics) has encouraged customer offtake and helped in posting a healthy like-for-like growth. In a recent presentation, Aditya Birla Fashion & Retail said successful execution of the value fashion strategy led to 16 per cent SSG, 65 per cent volume growth across categories and 63 per cent increase in own brands mix. Pantaloons opened 12 stores during this quarter, taking the total number of stores to 168 with 2.7 million square feet retail space. "We also expanded the Pantaloons franchise by opening the first Pantaloons Women's store, a unique store dedicated to the lifestyle needs of the Indian woman with offerings spread across western, ethnic and accessories," it said.

A Future Group spokesperson said Future Lifestyle Fashion's newer brands like CoverStory, Clarks, Mohr, Giovani too are growing at a steady pace and are drawing in new customers. "At the same time, we are investing in upgrading the consumer experience and brands of Brand Factory and Central. Together, these are resulting in stronger sales growth in both these chains," he added.