FITSOUL launches in Delhi
By VJ Media Bureau | Vjmedia Works | August 27, 2013
Sports and Fitness retail chain FITSOUL enters Delhi with an aim to open over 350 stores in five years time.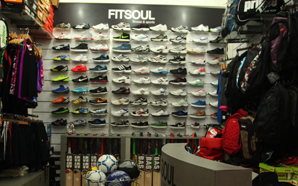 Fitsoul, a newly launched Sports and Fitness retail chain has entered Delhi as a one-stop retail solution for sports and fitness equipment. The Captain of the Indian Cricket Team, Mahendra Singh Dhoni, was in the capital to promote the brand'FITSOUL' which is Spread over 450 sq ft.
Adding more details on the launch, Parvinder Singh, Co-Founder and CEO, FITSOUL said, "We are actively working on making Fitsoul the most desired sports and fitness retail destination both online and offline. We have already launched the online portal (www.fitsoul.com) and are getting an overwhelming response from the customers. We have opened six retail stores and are looking at opening 350 stores across India in the next five years. Through this rapid expansion we intend to harness the exponential growth in the sports and fitness industry in India."
Speaking about the launch, Mahendra Singh Dhoni, Brand Champion of FITSOUL said, "Any sport is a land of opportunity but people lose an edge due to lack of quality sports gear. This kind of initiative is much needed in the country. We want to share our passion for sports with the world starting from India through FITSOUL. We strive to provide the best of products in the most efficient and affordable manner."
Also present at the launch was Sajid Shamim, Co-Founder and Director, FITSOUL, who said, "The vision for the brand is to provide consumers with a one-stop solution for buying equipments backed by expert advice. We are differentiated on the basis of both online and offline presence, industry partnership with like- minded brands, low cost franchisee model and soon to be launched e-enabled retail and champion's equipment program."
Commenting on the launch Arun Pandey, Chairman and Managing Director of Rhiti Sports said, "We are proud of this association since it fits into MS Dhoni's core philosophy of sports and fitness. Over the years we expect Fitsoul to be a game changer in the sports and fitness industry. We believe it will bridge the gap between the Indian sports enthusiast and the best equipment's and gear in the world."
A multi brand sports retailer having both online and offline presence, FITSOUL aims to provide an easy access to sports equipments, quality gear and merchandise. It caters to practitioners of all ages and skill levels. The brand offers merchandise from leading brands like Nike, Adidas, HEAD, Wilson, Puma, Yonex, Babolat, Nivia, SG, SS, BAS, GM and many more.