Flipkart claims $100-mn sales clocked in 10 hours
Vjmedia Works | October 07, 2014
Buyers complain about server errors, allege discounts were'not real'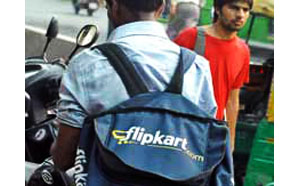 Leading e-commerce player Flipkart on Monday claimed to have clocked sales worth $100 million in gross merchandise value (GMV), in only 10 hours of its so-called 'Big Billion Day' sale. That seems an eye-popping number, given that the company had achieved sales of $1 billion in annual GMV in 2013-14. Flipkart does not reveal its daily sales figures, but going by the annual GMV run rate, its average daily sales last financial year should have been about $2.7 million.
Even as some users slammed the sale on social media platforms as a marketing gimmick, the company said its website had received a record one billion clicks through the day.
Online buyers, up since early morning, were ready to avail of the discounts offered by Flipkart - some went so far as to call the experience "a wedding in the family" and compare the event with international signature ones like the US' Black Friday sale and Alibaba.com's Single's Day sale.
However, many were in for disappointment, as the best deals on the website were over within seconds of the sale starting at 8 am. And, within the first 15 minutes, the 'steal deal' section, offering the biggest discounts, flashed an 'out of stock' message. Customers also complained that 'ratings and reviews' were missing from many products on Monday, which made their purchasing decisions more difficult. Also, Flipkart did not offer its usual refund or cancellation options on purchases made.
Competition, too, played spoilsport for Flipkart's big sale plans - a BigBillionDay.com website directed buyers to Amazon.in, while rival Snapdeal spoke of matching offers given by Flipkart. Amazon said it was not aware of how the link was redirected to its site but added it was investigating the matter.
FLIPKART'S'BLACK FRIDAY SALE'
1 billion: Hits received by the Flipkart website in 10 hours
500,000: Number of units sold in each of the mobile and fashion categories, the best-selling segments
15 minutes: Time taken for the'best deals' to be wiped out
Raw deal: Buyers claim deals advertised in newspapers were not available on website
Server errors: Stopped buyers from accessing the website for hours; most items went'out of stock' by the time servers were restored
Grievances galore: Social networking sites were flooded with complaints
Rivals: Snapdeal and Amazon were selling some items at lower rates than Flipkart
Flipkart co-founders Sachin Bansal and Binny Bansal, however, said their company had "created history in Indian e-commerce". The site got one billion hits on Monday and "achieved its 24-hour sales target of $100 million in GMV in just 10 hours", they said in a statement. The company's technology team was addressing errors and providing constant support to accommodate the largest traffic and customer visits that India's e-commerce had ever witnessed, they added.
While the founders said "this inspires us to dream bigger", consumers took to social media - Facebook, WhatsApp and Twitter - to air grievances over 'Big Billion Day'. Though some items again appeared in the 'steal deal' section later in the day, several shoppers claimed they faced difficulty in accessing the website due to 'server error'. Many others said the offers advertised by Flipkart were just not there.
"In today's newspapers, Flipkart had advertised that Samsung Galaxy Tab 2 would be available for Rs 1,390 (against its original price of around Rs 13,900). But I could not even search the product on the website, and the prices for other tablet computers were nowhere close to the discount advertised," said Pune-based businessman Amol Nedhe.
Additionally, consumers claimed prices on the website were inflated over the past few days and, therefore, the discounts running on Monday were not genuine. It began when a Sunday-night social media post - alleging Flipkart had increased its prices - went viral. "So they have increased the price now and tomorrow they will sell it in deals for big billion day. Dear flipkart.com, we are not stupid," said an early post by Delhi-based Geetansh Arora. The post had a photograph appended, showing how the price of a microwave oven had been increased by nearly Rs 5,000 just ahead of the 'Big Billion Day' sale.
Sachin Bansal, however said the increase in prices was due to a "manual error", as prices for some products had been punched incorrectly, which was corrected on Monday morning.
Buyers were shocked also because Snapdeal and Amazon were selling many products at rates that were lower than Flipkart's 'deep discounted' ones. Those who still tried to make purchases on Flipkart were stuck for hours with 'server errors' stopping them from accessing products and leading to issues at the time of closing of transactions. This happened in spite of technology bandwidth expansion ahead of the sale.
A spokesperson for Flipkart said the servers had not crashed but "there was an error which has been corrected. Our team is prepared to check all stress points. The event is very successful and well-managed so far."
About the server glitches, Bansal said the issues happened because the traffic on the website was much higher than ever in the past - and more than anticipated. "Throughout the day, traffic was 10 times more than what we were expecting. I am sure we will iron out these issues and do a 10-on-10 job next time."
Frustrated with these errors, several buyers posted criticising messages on Twitter. One of such tweets read: "Contrary to popular belief, BigBillionDay sale by Flipkart is not to raise awareness about http error codes."
"Flipkart to offer 10% discount on 404 (error for 'page not found') page. They are now calling it 363 page," read another. The server issues were resolved by noon but most items on the website were 'out of stock' by then.
During advertising for the day, Flipkart had said it would run 'deep discounts' across 70 categories. The company had also said it would offer multiple items at Rs 1; offer up to 30 per cent discounts on smartphones, 50 per cent on fashion, perfumes and toys; and sell laptops starting Rs 15,000. The company had doubled its ground staff to 10,000 for the event over the past few months, and extended deliveries to 40 more cities.