Flipkart enters large appliance market with 'MarQ'
By Alnoor Peermohamed & Karan Choudhury | Bangalore | October 05, 2017
Flipkart says large appliances sold under its brand name MarQ will cost between 10 and 20% less than products with similar specifications on its platform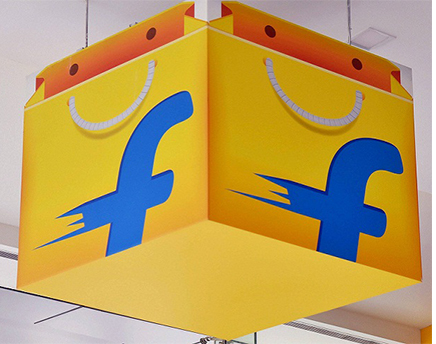 India's largest e-commerce marketplace, Flipkart, has launched its first private label brand for large appliances, MarQ, as it looks to boost sales in the high sticker price category that it says is among the fastest-growing on its platform.

The first products to be launched under the MarQ brand will be microwave ovens, followed by televisions before Diwali, and washing machines and air conditioners before summer next year. The three microwave ovens that have been launched will fit in with the bulk of the demand Flipkart sees on its platform.

Flipkart says large appliances sold under its brand name MarQ will cost between 10 and 20 per cent less than products with similar specifications on its platform. Moreover, the products will either offer better specifications at the same cost or similar specifications at a lower cost than competitors.

"Flipkart launched its first private label in December last year and in that time what we've been able to do is understand what the consumer wants. We've also been able to develop an ecosystem of sourcing and quality testing to meet their expectations. MarQ is a culmination of that," said Adarsh K Menon, head of private labels at Flipkart.

While developing appliances such as microwave ovens and televisions are a far cry from what Flipkart does, the company says it is partnering world-class manufacturers as well as quality-analysis agencies. For microwave ovens, the e-commerce company says it has partnered Guangdong Midea Microwave Manufacturing, a leading name in the sector.

Moreover, Flipkart says it has a trove of customer data, giving it insights on what exactly consumers want in such products. While products sold under the brand name MarQ might beat out the competition in terms of pricing and features, customers will still need to trust the brand before making a large purchase decision.

"The association of the Flipkart brand name adds that trust of equity and reliability. That can help a product get off the mark, but after that the product has to stand on its own two feet and delight the customer. As compared to a Flipkart Smartbuy, this journey will take a lot longer, because consumer durable products are a very high involvement purchase," added Menon.

But Flipkart says it is invested in the category for the long term and while it is doing things like building a very informative catalogue to address buyer questions and build trust, it admits that growing the business will take time.

Apart from the products themselves, Flipkart is also putting a lot of effort into after sales installation and repair services. Along with Jeeves, its in-house third party after sales service, the company says it has 300 authorised centres where customers will be able to get help for MarQ products they buy.