Forever 21 opens its flagship store in Mumbai
By VJ Media Bureau | Vjmedia Works | 2 | June 01, 2013
The joint venture between DLF Brands and Forever 21 will unveil five outlets in New Delhi, Gurgaon & Noida, followed by seven new locations in Mumbai and Delhi.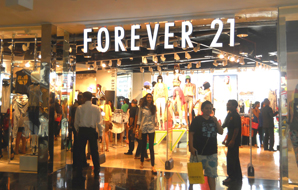 VJ Media Works Bureau, May 31, 2013: Leading apparel brand, Forever 21 and DLF Brands collaborated together to bring leading fashion brand from Los Angeles - FOREVER 21 to India. Spread across 11000 sq ft, the newly launched store at Infinity Mall, Mumbai was inaugurated by Bollywood's style diva Alia Bhatt along with Forever 21 Founder and CEO Chang. Complementing Forever 21 apparel and accessories, the store will also feature the retailer's other brands, including, Love & Beauty, a cosmetics line and Forever 21's lingerie and shoe collections.
At the launch, Linda Chang, Global Marketing Director for Forever 21, said, "We are excited to announce our first store in Mumbai in association with DLF. Our Mumbai store will continue to offer an incredible shopping experience with the best pieces at the best value."
Timmy Sarna, Managing Director DLF Brand says, "DLF takes immense pride in bringing in an internationally renowned brand like'FOREVER 21' to Mumbai. We are extremely confident that the varied range of clothing and accessories that the brand offers, will be a novel shopping experience to the consumers of the city. Post Mumbai launch we would be coming up with back to back five outlets in New Delhi, Gurgaon & Noida, followed by aggressive plans of expansion in other cities as well. We are looking forward to a long & fruitful association with Forever 21."
The store will be opened for consumers with a grand opening event on June 1, 2013 at 11am and the first 300 customers in line will receive a free Forever 21 tote bag. The brand has also used social media to a large extent to connect with the shoppers of today along with using outdoor advertising for their marketing campaigns. Speaking on the marketing at retail strategies, Kristen Stricker, Marketing Manager, Forever 21, says that the USP for their brand is that they will be offering new merchandise which will be arriving daily. Further adding that changing merchandise daily will definitely require hard work from their operational staff but this is the way they stand out from their competition and provide best fashion at best value.
Headquartered in Los Angeles, Forever 21 is a specialty retailer of women's, men's and girl's clothing and accessories. It has more than 560 stores in more than 15 countries and by the end of the 2013 is projected to have seven new locations throughout the Mumbai and Delhi area.