Forever 21 unveils its first flagship store in Delhi
By VJ Media Bureau | Vjmedia Works | July 15, 2013
DLF Brands has announced a joint venture with the American fashion retailer Forever 21 with the commencement of the latest FOREVER 21 store in Delhi.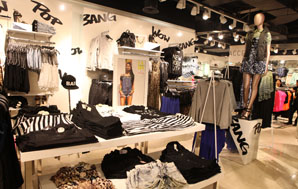 After beguiling Mumbai, the American brand Forever 21, which is a specialty retailer of women's and men's clothing and accessories, has now launched its first flagship store in Delhi in alliance with the DLF Brands. Positioned at the DLF Place Saket, the store is spread across 14,500 sq ft of retail space. Linda Chang, Global Marketing Director for Forever 21, said "We are very pleased to have been given the opportunity to expand our business into New Delhi and hope to offer the customers of DLF Place Saket with a wide selection of fashion-forward merchandise at an affordable price."
DLF Brands spokesperson Timmy Sarna shared, "We are proud to announce our joint venture with Forever 21, as we unveil our first flagship store at DLF Place Saket in Delhi. We are looking to expand extensively with more stores in both Delhi and Mumbai. The collection promises to offer an unprecedented selection, resonating of the latest international fashion trends at competitive prices'.
This new space houses a large selection of merchandise which also includes the retailer's other brands like 21MEN, a line of fresh, fast fashion for men of all ages, Love & Beauty - a cosmetics line and Forever 21's lingerie and shoe line along with the Forever 21 apparel and accessories.