Future to merge retail biz with Bharti Retail
By Christopher Brace | Vjmedia Works | May 05, 2015
Share swap deal pegged at Rs 750 cr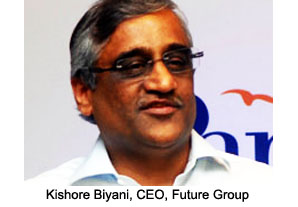 The Kishore Biyani-led Future Retail announced its merger with the retail arm of Sunil Mittal's Bharti on Monday, just a day after Aditya Birla Group made public its retail consolidation plans.
This seemed almost like a replay of e-commerce major Amazon announcing a $2-billion investment for the India market a day after Flipkart raised $1 billion from a clutch of investors. Replying to a question, at a press conference, on whether it was by coincidence or design that this announcement was coming just a day after the Birlas', Biyani jokingly said, ''We don't do anything by design. Ask them why they made the announcement on a Sunday.''
Monday's deal came almost eight years after Bharti had entered a pact with America's Walmart to do retail business together in India in August 2007. While Bharti and Walmart were in an equal joint venture for cash-and-carry or wholesale business, they had aspired to set up stores in the multi-brand category once the retail policy was relaxed. Bharti operated front-end retail stores, Easyday, on its own all those years, with the intention of Walmart joining hands at a later date. But, the two split up in October 2013, with Walmart going its own way on cash-and-carry and Bharti retaining Easyday. Future will now acquire a majority stake in the merged entity, with Bharti holding around 14 to 15 per cent in two entities - Future Retail and Future Enterprises. Both will be listed entities. Although it's a share swap arrangement between Bharti and Future, the deal size is estimated at around Rs 750 crore. While Rs 500 crore will be towards buying of the stake, another Rs 250 crore is for a future allotment of preferential shares. The overall debt of the venture will be around Rs 1,200 crore.
Will the consolidation mean Future ruling the retail sector as an undisputed leader? Biyani said the merged entity at an estimated Rs 2,000 crore would make the retail business more formidable, but pointed out that it was ''not a race out here''.
Even as both Biyani and Rajan Mittal, who heads the retail business of Bharti, said it was a synergy to expand their geographical footprint and increase the number of stores, Bharti's role in running the retail business is likely to be minimal in the venture. Future and Bharti stores will continue to run with their respective brand identities, they said. In the combined board, with eight members, Rajan Mittal is the only one invited to represent Bharti, thereby indicating the extent of the group's direct involvement. However, a committee has been formed to look at the final structure of the board.
The merger is likely to be completed in six to eight months, with permissions to be secured from Competition Commission of India (CCI), Securities & Exchange Board of India (Sebi), and stock exchanges. An integration panel with eight members is monitoring the modalities.
Biyani said the merged entity would look at having around 4,000 small stores by 2021. Currently, the partnership would mean 571 retail stores in multiple formats in over 240 cities covering 35.5 million square feet. Separately, Bharti has around 200 Easyday stores, mostly in northern India, and Future has around 370 outlets. Future had recently acquired the Nilgiris chain in the south of India, and the latest move implies a pan-Indian footprint for the group. Bharti had stopped store expansion after the end of 2012 over a lack of clarity on government rules in the retail sector and differences with the then partner Walmart.