GCPL ex-MD Mahendran readies solo venture
By Dinesh Jain | Vjmedia Works | December 09, 2014
A new range of beverages and confectionery on anvil in the South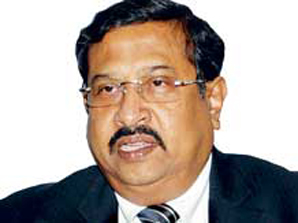 Ten months after getting Goldman Sachs and Mitsui Investment on board as private equity investors, Godrej Consumer's former managing director, A Mahendran (pictured), will shortly launch a new range of beverages and confectionery under Global Consumer Products, his solo venture.
The products, with the working titles of'Love It' for confectionery and'Cherio' for beverages, will be rolled out in the next two months, Mahendran, the company's chairman & managing director, said. Mahendran, along with his family, controls 20 per cent of Global Consumer Products; the rest is held by Goldman Sachs and Mitsui, which have invested Rs 315 crore in the venture.
"We are working out the finer details like branding and packaging and should be ready by January-end. We have already tied up with distributors and contract manufacturers in the South, where the products will be first launched," he said.
While the new products will subsequently be rolled out into other parts of the country, Mahendran is also contemplating acquisitions to strengthen his portfolio. "We are looking at buys in the food & beverage space, besides acquisitions of distribution assets, mainly in the North, West and East India. We are based in the South, so that region is not an issue for us. It is the other parts that we have to cover."
Acquisitions are not new to Mahendran, a veteran in the consumer goods sector who steered the merger & acquisition cell at Godrej Consumer as managing director between July 2010 and June 2013, wrapping up eight buys from 2010 to 2012. The acquisitions included Nigerian company Tura in March 2010, Indonesian major Megasari Makmur in April that year, Sara Lee's 51 per cent stake in the Indian joint venture Godrej Sara Lee in the second week of May 2010, Issue at the end of the third week of May 2010, Argencos in early June, and brands Swastik and Genteel from Mumbai-based Priya Kothari group in December 2010. In June 2011, Godrej acquired the Darling Group in Africa.
And, in January 2012, the firm acquired Chilean company Cosmetica Nacional.
After his exit from Godrej Consumer, Mahendran bought back pest management brand Hi Care from Danish company ISS in January this year — five years after first selling. The deal, valued at Rs 150 crore or twice Hi Care's sales of Rs 70 crore in 2012-13, also involved private equity investor India Value Fund (IVF). Mahendan took a 20 per cent stake in Hi Care, while the rest was held by IVF.
As far as the Bengaluru-headquartered Global Consumer Products goes, Mahendran says the company is eying a turnover of Rs 1,200 crore by 2020 and has put in place a high-powered team that includes former executives from Britannia, Ferrero Rocher and Mondelez. "Anuradha Narasimhan joined us about six months ago from Britannia. She heads sales & marketing. Kamal Kumar Agarwal, who heads finance, human resource, information technology and legal affairs, came from Ferrero. We also have Ajayakumar SA, our research & development head, from Cadbury (now Mondelez), Nigeria," Mahendran said.
Global Consumer might consider a listing by 2020 to give an exit to its private equity partners, or get a strategic investor on board replacing its current investors, Mahendran said. "This will happen in six to seven years, which is enough time to achieve our current targets," he said.
TOP EXECUTIVES WHO LAUNCHED FMCG START-UPS IN RECENT YEARS
Paras Pharma promoter Devendra Patel launched Adjavis Venture Ltd, post the sale of the Ahmedabad-based company to Reckitt Benckiser in 2010. The company was launched last year and markets the popular deodrant brand Layer'r
Devendra's brother, Darshan Patel, who had moved out of Paras Pharma before it was sold to Reckitt, runs another venture called Vini Cosmetics, maker of Fogg deodrant
Former Coca-Cola executives Neeraj Kakkar, Suhas Misra, Neeraj Biyani and James Nutall started Hector Beverages in Gurgaon in 2011. The company sells two brands, energy drink Tzinga and ethnic drink Paper Boat
Meru Cabs promoter Neeraj Gupta and consumer & retail sector veteran K Radhakrishnan together launched Freshkins this year in Mumbai, a neighbourhood shopping chain for perishable items