Get set for 'Apple Cafe', as Tresor goes all experiential
By Satarupa Chakraborty | May 02, 2019
The Cafe concept by Tresor Systems will offer immersive Apple product experience with no sale.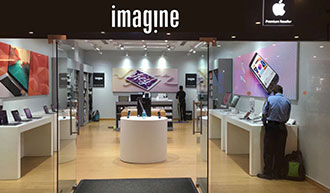 Tresor Systems, the promoter of Imagine Store, the exclusive physical store network for electronics behemoth Apple in India, will soon scale up the brand's identity through Cafe concept in India. The store concept will be rolled out exclusively to offer brand experience and will not conduct sales from these outlets. Apple enthusiasts can drop in to sip in coffee and enjoy an immersive product experience.
Apple has created a store design template for fellow phone manufacturers with a clean minimalistic design, where personalized services and immersive experience come as bonus. Apple's worldwide store network was lauded by CoStar Study for generating approx. USD 5546 per sq ft across a network of 506 stores back then.
Inclusion of F&B to extend brand experience has been common with many retail brands, many of which do not encourage sales of products from those outlets. It's notable that bike major Royal Enfield started a Cafe in Goa two years back, which was appreciated by the brand many times later for helping build a strong community of bikers thereby increasing sales in products and after-sales services.
Similar News
The CDIT major has opened its first flagship of Southeast Asia in Singapore with all latest in-store technologies and a swanky store design
The brand aims to accelerate their marketing initiative by providing online food ordering solutions to its customers.