Glassic Eyewear launches its first offline retail store in Bengaluru
By Rita G Chauhan | July 03, 2018
Online fashion eyewear brand Glassic forayed into the offline segment with its flagship store in Bengaluru and is planning to expand to other cities.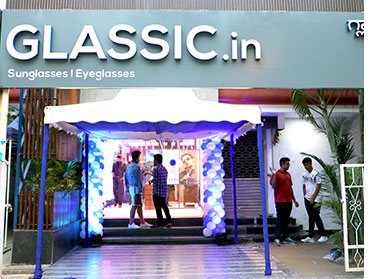 Online fashion eyewear brand Glassic inaugurated its first offline retail store at Indiranagar, Bengaluru. Owned and operated by Glassic Eyewear Pvt Ltd, the brand aims to make high-quality designer eyewear affordable to masses. On the occasion of store launch, Kailash Nichani, Co-founder, Glassic Eyewear said, "We are excited to launch our flagship store in the heart of Bengaluru. We identify latest trends and with our impeccable attention to detail coupled with in-house manufacturing, we strive to offer the best quality, great-looking eyewear at a reasonable price. Our first store will be an extension of our mission to delight customers with durable fashion and affordability in eyewear segment." The founders claimed they are offering one-year warranty to Glassic products owing to the quality promise. Moreover, Glassic's store acquired 1400 sq ft area and has an array of more than 200 designs to enable people to explore and try out its latest.
Speaking to Retail4Growth Nichani said, "Our store design follows the same principles of the Glassic brand - minimal, clean and fun. We follow an open, no-counter design where customers are free to walk around and try on our eyewear at ease." He added, "After spreading ourselves in Bengaluru, we would want to cover cities like the fashion capital, Mumbai; the National Capital, Delhi; and the young and vibrant city of Pune."
The opening of Glassic's store was marked by the presence of fashion guru Prasad Bidapa. The company was co-founded by brothers Kailash and Devesh Nichani in 2015.