Globally designed, locally sourced a great combination: Dave Thomas
August 20, 2015
Interview with MD, Adidas India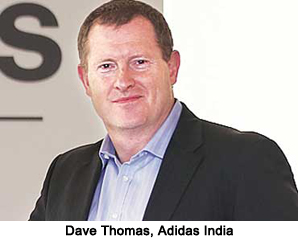 A year after taking charge as managing director of Adidas India, Dave Thomas is putting in place a blueprint intended to give the Indian subsidiary, dogged by controversies in the past, a fillip. In an exclusive interaction with Arindam Majumder, Thomas, a 16-year veteran at Adidas AG, speaks about how 100 per cent foreign direct investment (FDI) would make a big difference for the company in India and its plans on the omni-channel and e-commerce fronts. Edited excerpts:
How do you read India as a market?
When I joined things in e-commerce sphere were heating up, and then it slowed. In the past three months, I can tell you, things have really started to pick up. June, July and August have been really good. Our launches, especially in the footwear division, have been very well accepted by the market. Last year, we saw 10 per cent growth and I am very optimistic that we will do better this year. We focus a lot more on premium growth.
On distribution front, too, we had some stores that were under-performing, so we decided to shut those and concentrate on the franchisee stores that were performing well. Rather than just expanding, we have focused on solid foundations.
Puma has surpassed Adidas in terms of revenue in India. Are you looking to counter this?
We have a strategy that supports different channels to improve experience with customers - whether franchisee or multi-brand stores. In footwear, we are far superior than our competitors. We will continue to improve our market share in the premium range. We have still not come out with figures for this year. The figures can be inflated due to year-end sales, which have been equally good for us. It's important that one does not compare apples with oranges.
How do you plan to leverage the tie-up with Manchester United?
It's working fabulously for us. We had such partnerships with other teams and now have the real jewel. No doubt, Manchester United is the most popular football club in India and we have seen shirts flying away from our shelves, surpassing our expectations. We will smash our competitors' numbers.

Do you gradually plan to come out of the franchisee model?
We believe in a model that will have both franchisee and fully-owned stores. It does not mean we intend to come out of the franchisee model. In fact, we will expand that from 750 to 1,000.
Where our fully-owned stores will help is in terms of bigger stores. Currently, the average sizes of our stores are 1,000 sq ft and our partners are hesitant to expand due to profit implications. Fully-owned stores will allow us to open 5,000 sq ft stores in India. I also believe if we open our original stores, we can expand further.
Considering you are quite optimistic about getting permission from the government, what is the plan of expanding fully-owned stores?
We will start with a couple of stores next year, and then, expand gradually. But, before that, we want to ensure we have the expertise and human resources ready. Finding space for a 5,000 sq ft store is not easy in India and that's a challenge. We want to ensure that we open at the right places, rather than expanding without a plan.
One of the primary norms for FDI proposals is fulfilling the 30 per cent local sourcing norms. Will that be an issue for you?
That has never been an issue for us. Over 80 per cent of our products are made in India and we intend to gradually increase that. We have a network of 21 factories in India that manufacture our products.
Increasing the proportion of Made in India products is also a benefit for us, as it would help cut logistic costs. Globally designed and locally sourced is a great combination.
Do you plan to make India a manufacturing hub, with Narendra Modi's 'Make in India' thrust?
We have a factory in Chennai for export to Dubai, Singapore and Australia. I think, there is a great opportunity to increase that number. We continue to evaluate our portfolio about where we make our products and India is front down the list. The Make in India story is good for us.

What is your plan on the omni-channel front?
Our strategy is to work with partners that represent our brand in a proper manner. In e-commerce, there is a big discounts battle going on, which leads to brands shying away. We want to have full control over our inventory and, hence, we are selective about what and how much is given to e-commerce portals.
We have our omni-plan very much in place, with 25 stores having a tablet facility through which customers can order online. We will expand that to 1,000 by next year. Saying this, the e-commerce sites are complementary and we will leverage that option.