Goenka plans Rs 70-crore Au Bon Pain expansion
By Avishek Rakshit |Kolkata| Business Standards | Vjmedia Works | December 24, 2013
Goenka has opened the cafe chain's biggest outlet in Kolkata on Monday located on Park Street.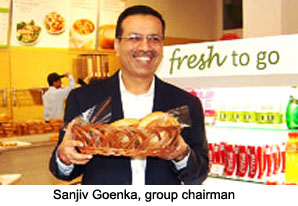 US' Au Bon Pain cafe chain, run by the RP-Sanjiv Goenka group in India, is aiming to expand over the next year in Delhi, Bangalore and Kolkata. The chain plans to add 40-42 stores across the three cities to its current count of 29 in Bangalore, said Sanjiv Goenka, group chairman.
Goenka opened the chain's biggest outlet so far in Park Street, considered the city's food street, on Monday. The140-seater store across 4,000 sq ft is housed where the group's music retailing brand Music World's largest store used to run earlier (all stores under the brand were closed earlier this year because of falling margins). This is the chain's second store in the city after the one opened in Quest, the group's new mall.
"The expansion will see investment of around Rs 70 crore," Goenka said adding the company was not looking to expand in Mumbai as rents there were too high.
Au Bon Pain, started as a small urban cafe in the US, is present across many major cities in that country. The cafe chain was brought into India by Goenka's daughter, Avarna, and the first store was opened in Bangalore in 2009.
While Goenka ruled out existing chains like Subway, iconic Flurys to be its direct competition, it appears Cafe Coffee Day might be the one it has to compete with face-to face.
However, the new cafe chain has a wide range of offering including a mix of US breakfast and baked version of Indian street food. The rates are a par with competition and average meal for two would cost around Rs 220-250, indicated Au Bon Pain India's chief executive Sanjay Gupta.