Gourmet retailers club swells with Foodhall expansion
By Swaminathan Balasubramanian | Vjmedia Works | January 13, 2014
Though gourmet chains have their challenges, Future Group is looking at break-even deadlines of a year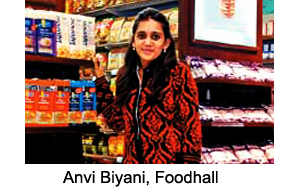 With new store launches and hypermarket chains dedicating floor space to
gourmet
food, there is much ado about it.
Retailers
are increasingly promoting it, citing reasons such as the aspirations of the Indian consumers, arising with their exposure to world cuisine. While an industry insider argues, "It is something of a new segment that retailers want to experiment with now."

The truth is somewhere in between, and many promoters are trusting Generation Next with gourmet brands as they increasingly reach out for produce such as vegetables, mushrooms and avacado priced over Rs 1,500 a kg, transported fresh from foreign shores. An executive at the latest Foodhall, a gourmet store format from the Future Group, points out that the exotic vegetables were being purchased in good measure every day.

The market for preserves, sauces, dressings and other accompaniments for a gourmet spread have also been expanding with both domestic brands and imported brands being stocked by retailers to ensure the consumer can get that elusive ingredient on her (or his with increasing frequency) shopping list.

Foodhall is a standalone format that intends to sell only gourmet offerings. The fifth Foodhall, that has an inventory of 8,000 to 9,000 products worth around Rs 2 crore at any point, was opened in Gurgaon in the Delhi-NCR earlier this week. Avni Biyani, younger daughter of Future Group CEO Kishore Biyani, is behind the chain. Having opened the first Foodhall in 2011 when she was 22 years of age, she is targetting quick profitability in every store: "I want to ensure that each store breaks even between six months and one year of launch. In our Vasant Kunj store, we were profitable in the third month." Enthused by the Delhi market, Biyani plans to launch another in Saket

If Foodhall is the brainchild of Biyani, Spencer's gourmet brand, Epicuisine, is being nurtured by 23-year-old Shashwat Goenka, son of the chairman of RP Sanjiv Goenka Group and its retail sector head. In a recent interview, Shashwat had said, "We wanted to offer something experiential and different to customers. Epicuisine served the purpose as a combination of epicure and cuisine. We are looking at young people living alone, nuclear families and those who don't have the time to cook. It doesn't make sense to order from restaurants every day, so we decided to look at the home meal replacement concept." The rebranded food centre will offer everything from gourmet to specialty meals, dairy, fresh fruit, bakery and cold cuts. Also available are sushi and Russian salads.

Spencer's is planning to open 10 hypermarkets in the current financial year and 12 to 15 next year. All of these will carry a range of gourmet products, even as about 40 per cent of the new stores are being opened in Tier-II cities and a few in Tier-III cities, mostly in Andhra Pradesh. The company's largest gourmet store is in Gurgaon, the same place that now hosts Foodhall.

Valued at about $1.7 billion (0.75 per cent of the total food industry worth $225 billion) and expected to grow at 20 per cent, the luxury food market is set to expand in 2014 as retailers open more such stores.

Apart from Spencer's Epicuisine and Future's Foodhall, key brands that dominate the Indian gourmet industry are Godrej Nature's Basket, Le Marche Foodworld Gourmet, Mason D'Gourmet, Le Marche and Nuts 'n' Spices. The three established players - Foodhall, Nature's Basket and Le Marche - operate 42 stores between them. Most of the gourmet food stores are located in the top 10 cities as of now, according to Tarun Jain, vice-president, food & agriculture, Technopak.

While both Spencer's and Future are talking of expanding the gourmet brands, Nature's Basket, which operates small-store formats, is expected to open 15 stores over the next three years, according to industry sources.

It helps that the economic downturn has not affected the gourmet segment. It caters to affluent consumers whose spending capacities have remained unaffected by the slowdown, argues Gaurav Gupta, senior director, Deloitte India.

The various formats - standalone gourmet stores, specialised segments within larger stores and smaller outlets - are likely to co-exist. But the industry players may have to introspect on sustainability. One cannot keep on opening small stores with high real estate prices. A store with a gourmet section is more sustainable, according to Mohit Bahl, partner and advisory, KPMG. In a country with rampant power cuts and high retail staff attrition, the biggest challenges for gourmet food stores is inventory management and getting the right staff, points out an executive chef of Foodhall.

Import regulations, labelling and packaging norms, currency rate fluctuations are the other challenges that the import-dependent industry faces, according to Jain from Technopak.

Meanwhile, most leading brands are not looking to venture into Tier-II and Tier-III cities in the next two years. Big cities are where the high-end buyers are, after all. For now, even online gourmet stores such as Foodesto and the Gourmet Company concentrate on few of the metros.