Harley-Davidson changes gears in India
By VM & Props | Vjmedia Works | December 20, 2013
Its new sub-Rs 5-lakh bike and a factory near Delhi will help it prepare for the future. Trends indicate the Indian superbike market is ready to explode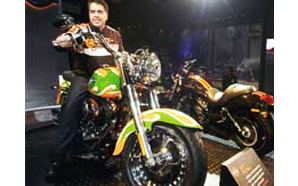 Sometime in February, Harley-Davidson will launch the first of its products based on the all new Street platform - developed over 14 years - in the Indian market. The on-road price of the Street 750 would be under Rs 5 lakh. This will make it the cheapest Harley anywhere in the world. It will be produced locally at the company's facility in Bawal (Haryana), which makes India the only other country where Harley will have full-fledged manufacturing operations apart from its home base in the United States.
The Street 750 will be unveiled at the India Bike Week in Goa in January and will be launched a month later at the bi-annual Auto Show in New Delhi. Deliveries are likely to commence in the second quarter of 2014. Another model, called the Street 500, will be produced at the Bawal factory but only for exports. The company has not yet decided on introducing it in India.
Harley has decided to manufacture in India at a time when superbikes aren't even a sliver of the local market and the country contributes less than 1 per cent to its global sales. Actually, Harley is investing in the future. "Since we entered India in July 2010, we have sold over 4,000 motorcycles in India. Our consumers love the brand and I am confident that the market will grow in double digits for years to come," says Anoop Prakash, managing director, Harley-Davidson India. "With the Street 750, we want to allow biking enthusiasts to come into the brand when they want to as opposed to when they can afford to."
Industry estimates corroborate Prakash's claims - sales of superbikes in the Indian market are expected to grow to around 3,000 in 2013-14 from around 450 in 2008-09. With rapidly rising disposable income, growing brand awareness and improved riding infrastructure, the superbike market is projected to clock double-digit growth till at least 2020. And quietly, superbike makers are readying to attack the market. Apart from Harley, others in the fray include Honda, Yamaha, Suzuki and now Triumph Motorcycles. Recently, Triumph set up a wholly-owned subsidiary in India and is looking to sell around 500 units within six months of launch and 1,000 units in the first full year of operations. Vimal Sumbly, managing director, Triumph Motorcycles India, says, "Our competitors either have sportsters or cruisers in their portfolio. We have a broader appeal as we have come to India with 10 models."
Price matters
Even for superbikes, India is a price-sensitive market. Manufacturing motorcycles locally will help Harley save on customs duty which stands at 75 per cent on completely built motorcycles and about 10 per cent on completely knocked down kits. Harley already sources components from India. Its decision to manufacture in the country can only mean that it has widened its base of local suppliers. Prakash declines to specify numbers but says that the sourcing of parts from India for Harley's global operations has gone up significantly in recent years: "We have global vendors. The idea is to find the best quality component with right availability to support manufacturing."
Prakash says that over the last three years the company has gradually expanded operations and passed on the savings to the customers to make Harley products more accessible and to initiate enthusiasts early into the brand. "The price rationalisation of our products stemming from the expansion of assembly operations has been dramatic. We started with three Sportsters in 2011 and today assemble nine products locally," says he (see Keeping Costs low). "With the Street 700, we are taking it even further. It is a better priced motorcycle relevant to a young urban population. The basic idea for us has been to move towards greater access - be it in terms of products, distribution network or pricing." Harley has 12 authorized dealerships in India and has plans to add four more by the end of 2014.
Prakash insists that Harley has not sacrificed profits to gain market in India. "Our pricing in India is no different from the United States. We are not sacrificing our margins," he says. Harley knows better economies of scale can be harvested by up-scaling production at Bawal. Thus, it is looking to export the Street 750 and Street 500 produced here to markets in Europe and Asia including China. "Between the Indian and the United States plants, we should be producing 7,000 to 10,000 units (of these bikes) every year. We would be exporting to Spain, Portugal and Italy from India," says Prakash.
Global outlook
Harley's international business has been a core focus area for the company in recent years. In the first six months of this year, Harley's global retail sales declined marginally to 144,447 from 145,391 in the year-ago period. While sales were up 11.9 per cent and 22.8 per cent in the Asia Pacific and Latin American regions, respectively, retail numbers slipped 2.7 per cent in the United States due to a cold and abnormally wet spring. Internally, the company expects 40 per cent of its motorcycle sales to come from international markets by 2014, compared to 35 per cent now and 27 per cent in 2010. John Olin, chief financial officer of Harley-Davidson, has been reported saying, "We believe the long-term prospect (in China and India) is extra-ordinary."
So has the market requirements in these countries shaped Harley's product development strategy? Prakash clarifies that the actual development work continues to be done at Milwaukee but extensive research is done to gauge requirements in emerging economies including India. "The development of the Street platform has primarily been driven by the desire to be where our customers are. We did at least 3,000 interviews in 10 different countries, including around 500 in Delhi, Bangalore and Mumbai. Our customers wanted an urban, maneuverable bike with dark styling, and that dictated the design of the new motorcycles on the Street platform," says Prakash.
ECLECTIC CUSTOMERS
Harley riders don unassuming roles through the week, attending to patients at hospitals or writing files in government offices. Most belong to high income groups. The demand comes from across sectors: IT professionals, HR heads, doctors, architects, real estate consultants, farmers, and even bureaucrats. Usually, a Harley buyer is a person who already owns a car. Interestingly, if you thought biking is a passion for the young, you are in for a surprise. The cult bike maker says the average age of its customers ranges between 35 and 40 years. The company has sold motorcycles to about a dozen women in India. Film stars Shahid Kapoor, Sanjay Dutt and Arshad Warsi are amongst the patrons of Harley in the country.
Most Indian buyers opt for black Harleys. The bikes are used both for commuting and for recreational and adventurous rides. All cities which have had British influence are depicting a strong biking culture. The biking culture is vibrant in Bangalore. Professionals, most of them from the IT sector, have travelled abroad and have been exposed to the biking culture prevalent overseas. So while Delhi and Mumbai are the biggest markets for Harley, steady demand also comes from places like Indore, Raipur, Nagpur, Pune, Ahmedabad, Kanpur and Allahabad.
The Northeast has a strong biking culture as a lot of heavyweight bikes were brought into the region by Japanese soldiers during World War II. According to a survey conducted by Harley prior to its launch in India, around 200 Harleys were there in the country which had mostly been imported by the armed forces.
KEEPING COSTS LOW
Harley-Davidson has steadily been increasing assembly operations in the country to sell its motorcycles at more accessible price points in the local market. In December 2010, the company announced its decision to assemble the Superlow and Iron 883 at its Bawal facility - a strategic initiative which helped Harley introduce the two bikes at prices of Rs 5.5 lakh and Rs 6.5 lakh (ex-showroom, Delhi). The two models, with combined sales of 737 till November, now account for over 60 per cent of Harley's sales in India. Overall, Harley has 11 models belonging to five families with prices ranging from Rs 5.91 lakh to Rs 29 lakh.
Close on the heels of the government increasing customs duty on imported motorcycles (with engine capacity upwards of 800 cc) to 75 per cent from 60 per cent this year, the company announced plans to assemble three high-end models in the country. The move enabled the motorcycle maker to pass on to the buyers price reductions between Rs 4.1 lakh and Rs 4.55 lakh on the Fat Boy, Fat Boy Special and Heritage Softail Classic, respectively.