Harley-Davidson opens store in Siliguri at Cosmos Mall
By Nabamita Chatterjee | April 24, 2018
This is the brand's first exclusive lifestyle concept store in India. Harley-Davidson has started its expansion drive in the North East with a store in Mamcy Mall, Imphal followed by Cosmos Mall, Siliguri to begin with. They will soon expand presence in other parts of the country with more stores coming up in East India.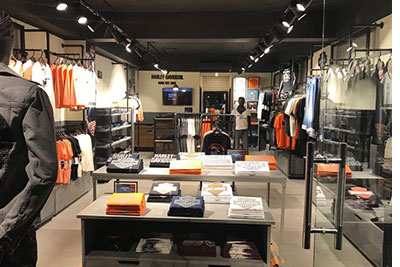 Harley-Davidson Motor Company, the premier American cruiser bike brand, recently announced that it has entered into an agreement with G-III Apparel Group Ltd. for G-III to design and distribute Harley-Davidson lifestyle apparel throughout Asia. The collaboration is in sync with Harley-Davidson's long-term strategy to build next generation of riders through lifestyle apparel. Under the agreement, G-III will develop a network of Harley-Davidson apparel stores in the Asia Pacific region.
Located in Cosmos Mall, Siliguri this iconic brand has introduced a wide range of clothing line and accessories for the fashionista's in the city. GIII Apparel Group is the Asia Pacific Licensee for this lifestyle concept. Jean-Pascal Salvaj, VP Wholesale Asia for GIII, believes, "the spirit of Harley-Davidson & its high street fashion element will create a high impact on the Indian consumers both riders and non-riders. This is a bridge to premium brand so expansion would be selective and cautious with the journey starting from North East as the most fashionable part of India." He also revealed that GIII Apparel Group plans to open 12 concept stores across India in 2018 alone.
The lifestyle apparel-focused stores are aimed at 18 to 35-year-olds who seek what the Harley-Davidson brand represents. Based on location, anticipated volume and other retail factors, the stores will come in three different formats, including a large mono-brand store with a footprint of up to 120m2, a medium sized shop-in-shop format with a footprint of 60-80 m2 that may sit within another major retailer, or a smaller format with a footprint of 25 -40 m2 that may sit within another retailer or be a pop-up store. The store design includes digital screens, visuals and Virtual Reality to give a great customer experience!
The stores showcases Harley-Davidson Spring-Summer 2018 Collection which are inspired by the classic American motorcycle culture and use colorful American totem prints and motorcycle elements to create a new generation of high-street fashion collections. All the Harley Davidson lifestyle stores will have HD graphic tees and amazing chest prints, a wide range of denims, leather and non-leather jackets, men's and women's fashion merchandise as well as Harley Davidson exclusive accessories and backpacks.