Havells'new Standard
Vjmedia Works | June 11, 2014
It is trying to beat slowdown blues in urban India with a value-for-money brand. But it must do so without affecting the thriving parent brand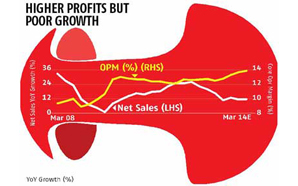 India's largest electrical appliance maker, Havells India (Havells) is turning a new leaf in its growth strategy. Earlier, it had tried to make inroads in rural India with low-end switches under Reo. The Noida-based company is now trying to expand its franchise in its core market - urban India - with the help of its other brand called Standard. Originally a switch-gear brand sold in the contractor market, Standard is now being pushed in the retail segment. Could Standard be Havells' way to solve its business dilemma?
It launched Standard wires and cables in early-2013, but has now extended it to modular switches and fans - two of Havells' biggest revenue contributors. It has not yet taken a call to extend it to other products that the parent manufactures, as Anil Rai Gupta, joint-MD, Havells India, says, "The brand should achieve certain scale before we can think of expanding it".
"Standard was a dormant brand in our portfolio with its own sales network. So, we decided to leverage its distribution strength by expanding the product portfolio and increasing its retail reach," says Sunil Sikka, president, Havells India. The strategy has paid off so far. Standard's revenue run-rate has more than doubled to Rs 25 crore a month from around Rs 10 crore per month, a year ago. "So far our retail focus was always on Havells, our flagship brand. Others brands in our portfolio were targeted at a specific segments. Now that Havells has matured, we are trying to create a second brand to bring in new customers," adds Sikka.
In future, if Standard, which is manufactured on the same production line as Havells, is extended to other categories, it could become a parallel brand to Havells, whose portfolio includes almost every electrical goods that a modern home needs - modular switches, fans, wires & cables, MCBs, lighting and kitchen and home appliances.
"Standard is still at an experiment stage but in the long term we would like it to become a full-fledged brand," says Sikka. But why risk cannibalisation and resource duplication when the parent is thriving? The answer lies in the company's inability to penetrate price-sensitive markets such as Mumbai, especially in the economic slowdown.
In the last five years, Havells has grown at a fast clip. Its success has been built on heavy investments in brand-building, in-house product development, design and manufacturing. This has enabled it to command a premium over competition and one of the best operating margins in the sector.
There are now signs that Havells' well-oiled strategy is facing friction in the slowdown. While the company is still able to attract the top-end of customers and has maintained and improved its margins, its revenue growth is faltering. In the last three years, its revenue growth in the domestic market (based on standalone figures) has declined from 25+ per cent in 2010-11 to 11.6 per cent in 2013-14. During the same period, the company's operating margin (excluding other income) has improved by over 200 basis points to 14.6 per cent. Obviously, higher profitability is costing the company some growth (See chart).
Analysts attribute it to the company's refusal to take a hit on margins. "The company has created a strong brand in electrical products, traditionally a low-involvement category. It is not willing to dilute its premium brand equity in a rush for growth," says an analyst with a leading brokerage on the condition of anonymity.
That is where Standard fits in. Its gives Havells the opportunity to grow a value-for-money brand, without sacrificing Havells' equity. It has already taken baby steps towards a multi-brand strategy. For example, in fans, the bulk of Havells' volumes come from decorative ceiling fans in the price range of Rs 2,000-3,000 per piece. Standard mostly sells basic fans in the range of Rs 1,500-2,000 per piece. "Standard will not be a cheaper alternative to Havells. We plan to differentiate it on the basis of product design, features and distribution. The idea is to provide another brand alternative to consumers in multi-brand outlets, and increase our total market share," says Gupta.
Standard is being promoted as an independent brand. There is no mention of Havells on the packaging or brand communication, to avoid any chance of Havells' premium image getting blurred by Standard's value tag. It is also being sold through a different channel and no retailer stocks both the brands.
It may, however, require heavy spends on brand-building. In the last five years, Havells' advertising expenses have grown at around 21 per cent, faster than its standalone net sales growth of 15 per cent between 2007-08 and 2012-13. The company has maintained ad expenses at 2-3 per cent of net sales, one of the highest in the industry.
Arvind Singhal, chairman Technopak Advisors cautions against Standard eating into the equity of Havells and putting its pricing power at risk. But "given its size and scale, Havells can easily afford investment in two brands. The same cannot be said of many of its competitors," he says.