High price, FDI norms derail Nilgiris sale
Vjmedia Works | April 10, 2014
Actis postpones sale of retail chain till after the general elections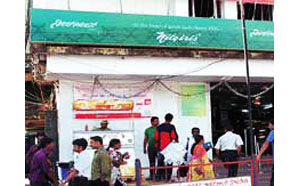 When private equity (PE) company Actis paid $65 million for Nilgiris Dairy Farm in 2006, its plan was to exit within five or six years. However, the PE fund could not find any takers for its 65-per cent stake in the south-Indian retail chain, on the block for two years with a tag of $150 million.

The reasons, say sector sources, include high valuation, a lack of clarity in foreign direct investment (FDI) in the retail sector, as well as the reluctance of Indian equity partner Prabhu Ramachandran, who owns a 35-per cent stake in Nilgiris, to sell his stake.


At the moment, the retail chain is run by an independent chief executive reporting to the board.

Bankers say there is a clear mismatch between the valuation sought by Actis and the offers made by buyers and this has led to a stalemate in talks. Actis is helped by HSBC to lead the sale.

The sale of Nilgiris is a test case for FDI norms as the Bharatiya Janata Party's (BJP) manifesto released on Monday seeks to ban FDI in retail. If a BJP-led government comes to power, it might impact the sale of Nilgiris and Actis would have to sell its shares to another fund, say bankers.

Actis sources say the fund had initiated talks with three international entities, 7-Eleven, Tesco and Lawson, in late 2012, but the buyers were spooked by the lack of clarity in FDI norms. Tesco later partnered Tata's Trent to launch retail stores in India.

This leaves Actis to sell its Nilgiris stake to an Indian company, pulling down the valuation of the 140-store supermarket chain. It was reported in November that Future group's Kishore Biyani was in the race to buy Niligiris. However, nothing concrete has happened. Meanwhile, Biyani has told Business Standard he has no plans to buy the company.

According to Actis insiders, the fund is in no hurry to sell its Nilgiris stake as the retailer is one of the only two money-making grocery retailers in India. The other is Reliance Industries, which has scaled its business across the country.

"We were approached by many companies," says an Actis insider, who did not wish to be named. "As we have a franchise model, we are fully compliant with the FDI norms. Now we will wait till the elections are over to sell our stake."

The company has been profitable for two years and its sales are rising consistently, too, says an insider. Nilgiris sales are close to Rs 700 crore a year and it earns 60 per cent of its revenues from its franchises.

An official spokesperson of Actis in London declined to comment on the Nilgiris sale process.

It would have made sense for foreign companies to buy Nilgiris as it would have given them foothold in the $400-billion Indian retail market (including unorganised), growing 10 per cent a year. But, a lot will depend on the stand taken by the next government.

Though Actis is struggling to exit Niligiris, the fund has been performing well in India. It was able to exit some marquee companies with good returns. It had exited Paras Pharmaceuticals in 2010 for Rs 2,000 crore at three times its investment of Rs 600 crore, and Sterling Hospitals last year.