Hokey Pokey on an expansion spree
By Bhawana Anand | Vjmedia Works | July 30, 2014
The ice cream brand aims for a larger market presence having opened its first outlet in Delhi NCR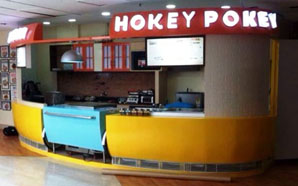 Premium ice cream brand Hokey Pokey, having established its presence in Mumbai and 20 other locations across Maharashtra, is now gearing up for a larger market presence. The brand has recently opened its first outlet in Delhi NCR, in Ambience Mall in Gurgaon.
Rohan Mirchandani, CEO, Hokey Pokey, says that while the brand was launched in 2009, he considers it as a young brand that is now spreading its wings. Recalling the early stage of the business, he says, "During my MBA, I realised how big this start-up can become. While Hokey Pokey has been there in the market for some time, I consider it as a 1.5-year old business as I moved to India only 1.5 years back to take over as the company's CEO. Now we are taking our brand to different markets in the country."
The young entrepreneur believes that "slow and steady wins the race". "In a business like this, a lot of people make the mistake of moving too fast. Instead, we decided to build a strong base and do the right things first. Today, we are sure that our offering, be it in Mumbai or Delhi, will meet the same quality standards and customer expectations."
Mirchandani says that contrary to the general belief that only international ice-cream brands deliver high quality offerings, Hokey Pokey has established a premium brand that is also positioned in the reasonable price range. "We wanted to be local and we wanted to use local ingredients," he says.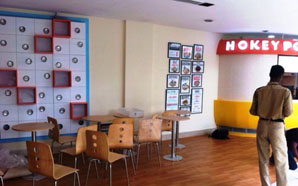 Encouraged by the market response in Maharashtra, Mirchandani expects Hokey Pokey to be a big draw in the Delhi NCR market too.
Talking about the particular location where Hokey Pokey has opened its new outlet, Mirchandani says a lot of thought went into the selection. "We looked for a place that ensure high visibility for our brand, and also facilitates deep consumer engagement," he says.
Hokey Pokey follows a unique concept of mixing ice-creams at its parlours. Customers get to see their choice of ice-creams getting mixed on a cold stone slab. In fact, the customers get to create their own ice cream desserts. "We let our customers create their own recipe and if they come up with something really new we try to include those in our menu. And if that receives a good response, we take the recipe to the factory," he adds.
Delhi NCR malls are already packed with ice-cream parlours but this doesn't bother him. "I don't think any other brand is our competition and neither my brand is a competition for them. The ice-cream market in India is Rs 5,000-6,000 crore in size. They have their share of business and we have ours. We are very clear about our business objectives. Our TG is the 25-35 age urban females. We are very unique in what we do," he asserts.
The brand is targeting high-end local markets in Delhi NCR like Greater Kailash and Haus Khas, and top malls like Pacific Mall.