HUL\'s food business shrinks to 3% of FY17 revenue
By Dinesh Jain | Vjmedia Works | June 07, 2017
At Rs 1,035 cr in FY17, the size of foods was down 49% over FY16, according to its annual report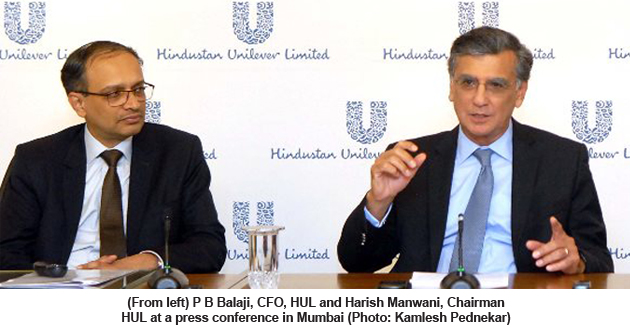 The food business of Hindustan Unilever (HUL), the country's largest consumer goods company, shrank sharply during the last financial year.
According to HUL's latest annual report for the financial year 2016-17 (FY17), the company's food business was down to 3% of net revenue (Rs 34,487 crore), compared to 6.6% in 2015-16 (FY16). HUL's FY16 net revenue stood at Rs 31,987 crore. In absolute terms, this works out to Rs 1,035 crore in FY17 versus Rs 2,111 crore a year ago, a drop of 49.02% over the year-ago period.
While the Kissan brand maintained its leadership position in ketchups and jams, and Knorr expanded its soup portfolio, the company said the business slowed down in FY17 owing to category and market challenges.
"The company continued its focus on improving the profitability of the Annapurna business (branded commodities) by driving efficiencies across the value chain," HUL said. Parallelly, HUL scaled up experiential marketing initiatives in foods as the pressure to improve on-ground sampling to grow sales increased.
The company also said it saw temporary transition challenges during the shift to the goods and services tax (GST), but added it was prepared for it. While soaps and toothpastes have been slapped with an 18% GST rate, detergents and much of personal care are in the 28% tax bracket.
Home care, personal care and refreshments constitute 33%, 48% and 14%, respectively, of FY17 net revenue for HUL, according to the annual report. But, while home care and personal care categories are not comparable, since the company undertook portfolio changes in FY17 clubbing soaps (personal wash) with personal care and bunching the water purifier business with detergents under home care, the refreshments business is comparable over last year.
From 12.2% or Rs 3,902 crore in FY16, the business touched 14% or Rs 4,828 crore in FY17. The jump in size works out to nearly 24%, which is substantial, sector analysts said. The refreshments business includes beverages such as tea, coffee and ice-creams and frozen desserts.
"There were new products and variants launched across categories which were received well by consumers," HUL said. "The beverage segment delivered broad-based growth across both tea and coffee. The ice cream and frozen desserts business continued to deliver strong performance with double-digit growth and improved profitability," it said.
During the year, HUL said it increased focus on widening distribution and making brands more accessible to consumers in ice-creams and frozen desserts. The impulse portfolio continued to grow faster with improved brand equity across (Kwality Walls) Cornetto and Feast, the company said.
The company also admitted that oral care had a subdued performance in FY17 and that the category was undergoing a shift with 'naturals', 'freshness' and 'care & problem solution' segments moving towards equal proportions in the market. "Reshaping of the category has created new growth opportunities for the company, especially in the naturals segment," HUL said.
The company also said it had introduced 'naturals' variants in core brands such as Fair & Lovely, Clinic Plus and TRESemmé, launching ayurvedic personal care brands under Lever Ayush and pushing acquired brand Indulekha aggressively.