Jabong-Myntra duo aims to double revenue
September 15, 2016
Net revenues of the two companies, now under the Flipkart fold, were estimated at $500 million last year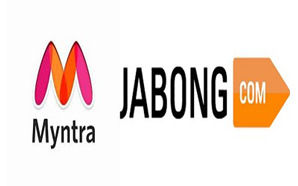 Online fashion entity Myntra, which recently acquired Jabong in the same space, is now eyeing a combined net revenue of more than a billion dollars by next year, it is learnt.

The net revenues of the two companies, now under the Flipkart fold, were estimated at $500 million last year, a source said.

With a singular mandate of growth given to both companies by Flipkart founders Sachin Bansal and Binny Bansal, the aim is to expand revenues in the shortest possible time. Myntra and Jabong are still working independently but senior management at both are trying to prepare a common strategy. Ananth Narayanan, chief executive, is at the helm of affairs at both companies.

"The pressure is on growth and increasing of combined revenues. The senior management is trying to bring synergy between the two companies in areas such as tech, data analytics and also having centralised design centres for both, All this would be achieved in a few months; the work is on," said a senior executive. Jabong is yet to announce its festive sale event plans. "Right now, we are keeping the festive sale strategies different," added the executive.

Myntra, owned by online marketplace giant Flipkart, bought rival Jabong for $70 million in July. Flipkart, which had earlier bought Myntra, managed to wipe out the competition in online fashion with its acquisition of Jabong and its eight million customers.

In July Myntra said the total value of products sold on its platform had crossed $1 billion.