Jewellery companies post good results despite demonetisation woes
By Chaitanya Muppala | February 17, 2017
Plan to further strengthen retail presence for better margins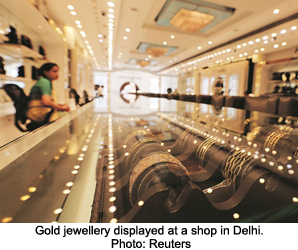 Despite a demonetisation-led dip in sales for a couple of weeks in November, jewellery companies in the organised sector had a decent show in the October-December quarter.

According to industry sources, two things drew consumer interest. First, the price of gold declined by 11% to end the quarter at Rs 27,900 per 10g. Second, a shift in consumer behavior from large and heavy gold jewellery to lightweight diamond-studded gold ornaments.

The shift made companies such as Titan (part of the Tata Group, under the Tanishq brand), Rajesh Exports and Gitanjali Gems focus on the retail end than the bulk business. Titan reported a 13% increase in net profit to Rs 255.7 crore, on sales growth of 13.9%. Tribhovandas Bhimji Zaveri (TBZ) reported an 89% jump in net profit at Rs 6.1 crore.

"A strong start (40% jewellery sales growth during the 30-day festive period) was brought to a halt by demonetisation in early November but traction improved thereafter," went a JM Financial report on Titan. "We remain positively-biased on Titan. Valuation, off the peak of 42 times the net trading margin earnings seen in mid-2016, is no longer a major headwind. But, sustainability of the demand pick-up is critical. Titan's earnings are prone to strong upgrades in times of buoyant consumer sentiment."

According to trade sources, gold jewellery sales dipped by around 20%; diamond jewellery sales benefited. Organised jewellery retail as a whole saw growth of almost 50%, due to the branded diamond jewellery.

Gitanjali Group's diamond jewellery brands -- Nakshatra, Gili, Asmi, Sangini -- have seen phenomenal growth in sales through the year. Nakshatra saw 167% growth; Gili, Asmi and Sangini recorded jumps of 20%, 130% and 80% so far this financial year, an average growth of 48%.

"Consumer sentiment was in favour of gold till demonetisation and suddenly changed thereafter in favour of diamond. Consumers sought trust, certificate of authenticity, quality, innovative new designs and value for money. The fastest growing category was ornaments at less than Rs 100,000 price, seen as offering high value for money. Also, by and large, products below Rs 200,000 sell well because of of the Know Your Customer (KYC) requirements above this threshold," said Mehul Choksi, managing director, Gitanjali Gems.

Rajesh Exports opened its 81st showroom under the Shubh Jewellers brand, in the second phase of retail expansion. "The company is also planning initiatives such as sale of Valcambi-branded gold coins and bars through an e-commerce platform, vending machines and duty-free shops at airports. These initiatives, expected in the next six to nine months, will further drive its growth," said Ajeya Patil, an analyst with Evaluate Research.

Shrikant Zaveri, chairman of TBZ, said: "Despite operating challenges, we achieved overall sales growth, driven by better festive demand and increased redemptions from the Kalpavruksha gold accumulation scheme. We are optimistic on gradual rebound in discretionary demand, backed by an extended wedding season. We will continue our efforts to expand our retail presence in an asset-light manner."