Kinderdreams to debut in India
By Susmita Das | Vjmedia Works | August 21, 2013
The brand's first Exclusive flagship Toys and Childcare store will be located at the 1 MG Mall in Bangalore and will retail top German brands like BÏ‹bchen, Playmobil, NICI, HABA, Rebel Kidz and JAMARA.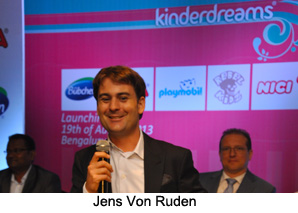 KidsKinder Dreams India Pvt. Ltd has announced the launch of "Kinderdreams"- the 2012 founded, exclusive Indo-German Retail Chain of top German Toy and Child Care brands in India. The flagship store of Kinderdreams will be unveiled shortly at the 1 MG Mall positioned at MG Road in Bangalore. The press conference was attended by Hans-Günter Löffler, Deputy Consul General-German Consulate and Audrey D'souza, Regional Director, Indo-German Chamber of Commerce to emphasize the increased interest in joint ventures between the two countries.
The top Toy and Child care brands that will be exclusively retailed and distributed by Kinderdreams at present include top six German brands like Bübchen, a wholly - owned subsidiary of the famous Nestle Group, Playmobil- Germany's foremost toy manufacturing brand, NICI which specializes in gifts, accessories and plush, HABA- the award-winning German brand dealing with wooden toys and children's furniture, Rebel Kidz- creators of stylish learner bikes for children along with JAMARA- the toy brand replete with technology with all the products sourced from Germany.
Speaking at the conference, S. Sampath Kumar, Founder and Managing Director of Kinderdreams, said, "The Indian Toy industry is very fragmented with very few pan Indian players. Estimated at USD 12.23 Billion in 2012, the industry is expected to touch USD 21.2 Billion by 2015 (at a growth of 15% annually). We believe that Kinderdreams will be part of this growth and the timing is right. As per a recent Euromonitor study, spending on toys and games in India is growing rapidly, almost 157%, much faster than other Asian countries such as China (84%), Taiwan (35%), South Korea (33.1%) and Singapore (17.2%)". "India also has the highest number of babies in the world. The Indian baby skincare market alone is projected to grow at 15.6% during 2011-14," he added.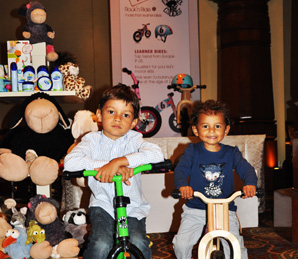 The brand plans to open 6 Kinderdreams stores across Bangalore by March 2014 and over 25 Kinderdreams Stores across Tier I and Tier II cities by end of 2015 and will be investing INR 100 Million by end of 2015.
Dr. Jens von Rüden, Co-Founder and Director - Business Development, Kinderdreams shared, "Kinderdreams is the exclusive partner for all the top six German brands. Our business model will include both stand alone stores as well as shop-in-shop formats. We will also be the distributor for other retail stores." He further added, "Our flagship store will be opened shortly at 1 MG Mall at MG Road and we also have a retail outlet in Jayanagar with massive plans of expansion in the coming years and also our complete range of products will be available online shortly on Flipkart, our E - commerce partner."
Sampath further shared, "We are looking at expanding on a rapid pace. We will first spread our network across Tier I and by end of 2015; we would have a fair amount of presence in Tier II cities as well. We are looking at launching more products and are already looking for dealers for franchising and modern trade. We are looking at a turnover of over 400 Million INR by end of 2015."