Late to the party, Burger King reins in prices
November 12, 2014
The Whopper creater has most of its burgers priced at par with McDonald's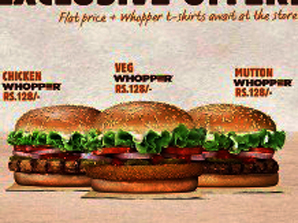 On Sunday, November 9, a store in New Delhi's upmarket Saket Select Citywalk mall ushered in the first real competition for McDonald's in the fast-food genre of burgers. Its American counterpart, Burger King, finally made it to the Indian shores, and while it is smaller than Mickey-D, it has been a constant challenger to its supremacy and is one of the burger trio in the US (Wendy's being the third).
Burger King has had it rough globally, losing some of its differentiators over the years, even as McDonald's capitalised on its fast, efficient and child-friendly burger service across the world. With its India entry, it would be hoping to lift up its prospects, evident from the anticipation it spun around its entry, among consumers and analysts.
The Miami-based burger chain was able to work up consumers by revealing its India plans in phases since last year. So much so that, it had a pre-booking offer to avoid frenzied queues on the day of launch.
One of the key differences between the Whopper burger-creator and the Golden Arches has been its higher pricing, indicating a chunkier offering. It has always stressed the quality of its broiled (flame-grill) patties (over grilled ones at McDonald's) and sold at higher price-points as a result. However, to make the most of its entry into its 100th market, India, it is pricing its fare at par with that of McDonald's, which globally has been trying to go premium with innovation and bigger burgers itself.
While McDonald's has its flagship McChicken-fries-beverage combo at Rs 133, Burger King offers its classic flame-grilled chicken combo at Rs 119 (11 per cent lower) and chicken chilli at Rs 139 (5 per cent higher). In other Asian markets such as that of China, Burger King's comparable burgers have been priced as much as 89 per cent higher.
The pricing, however, could throw surprises not just for its brand equity but profitability, too. Arvind Singhal, chairman, Technopak, a retail advisory firm, says the move is a smart one but profitability, keeping current trends in mind, may take some time. "The QSR segment has been reeling under pressure for the past couple of years and sentiments are slowly turning positive which is good sign for the players. Burger King's plan to keep pricing competitive would help the brand gain customer loyalty," he says. Burger King India CEO Rajeev Varman, however, maintains that profitability is a priority and the chain would not open stores indiscriminately if not profitable and would take stock after the first dozen.
As with MNC entrants, Varman claims Burger King, too, has created an Indian menu from scratch. It has plans for about 12 stores in New Delhi and Mumbai in the next 90 days. Burger King has joined with private equity major Everstone Capital for its India foray. The latter has substantial investments in food and beverage ventures.
The burger quick service restaurant (QSR) market is about 2 per cent of the overall market, with the latter expected to double by 2018 to approximately Rs 26,000 crore, according to a report by McKinsey.
But Burger King's entry into India, considered as a high consumption market, is seen as being a little late. McDonald's has already beaten it to it and entrenched itself with about 250 stores serving more than 650,000 people per day. Globally, while McDonald's has more than 35,000 outlets, Burger King has 13,000 restaurants. Burger King has a turnover of $1.4 billion while McDonald's about $28 billion (as of 2013).
Not just in scale, Burger King has had trouble with finding itself a lasting positioning, too, with marketing gurus such as Jack Trout noting how it could differentiate itself better from McDonald's by becoming a more adult option (even if it were to be a 10-year-old-and-above one). It once did well as an irreverent alternative to McDonald's, generating considerable buzz with its memorable online campaigns and drawing in a hipper crowd of 18-30-year-olds. It would let diners customise the burgers as well.
But what remained constant all along was its emphasis on its premium offerings. But of late, it has veered towards balancing both premium and value meal options and its Indian pricing is in line with that as it has a premium option in its Chicken Whopper combo at Rs 169.
Burger King needs to get its India calculations right because it is a vital market in Asia. The chain has not fared well in China, with a count of just 100 stores as of now (after entering in 2005); in Japan it ran into trouble along with McDonald's and Starbucks over expired meat, and its more recent market of Pakistan is a much smaller one than India's.
MOVES TO DRAW IN THE CROWD
Burger King tied up with Ebay for pre-booking of its classic Whopper burger to let diners avoid the queue
Krispy Kreme, the doughnut chain, launched a digital campaign to highlight its local flavours
Starbucks, which recently completed two years in India, is cashing on its international brand equity with premium pricing and an array of beverage choices
Dunkin Donuts is focusing more on the youth, as against the majority of players targeting families