Llardo opens store at Bergamo Mall, Chennai
July 03, 2013
Llardo known for artistic porcelain creations opened its ninth store in Bergamo mall, Chennai with plans to open up shop-in-shop format in tier 2 cities.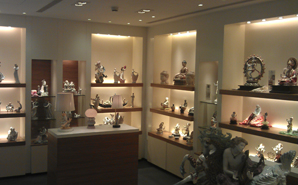 Lladró, a leading Spanish brand widely known for its artistic porcelain creations, opened its ninth store in Chennai's luxury mall Bergamo. Spread over 435 sq ft. the ninth store was launched on June 28th 2013. Speaking on opening up an exclusive outlet at Bergamo mall in Chennai, Nidhi Aggarwal, Marketing Manager - Brand Lladro, says that, "We are very pleased to take this step for our patrons in Chennai. Catering for almost 7 years to the Chennai market, we have made a very strong market for Lladro in this city and it was only necessary to upgrade to a structured luxury retail space now. We are very happy to be present in the most luxurious mall of Chennai, sharing the space with other brands of our segment. With more enthusiasm and constantly added new merchandise, we are committed to cater the very best of Lladro in Chennai."
Llardo is known for catering to every emotion with a sculpture which has helped in establishing strong foothold in the domestic market after entering India in 2000. Currently Llardo has 8 boutiques in India and is present in all the metropolitan cities. Llardo has its company owned boutiques across Delhi, Gurgaon, Mumbai (2 stores), Kolkata, Hyderabad, Bangalore, apart from Chennai.