Malabar Gold & Diamonds unveil first showroom in Kolkata
By Nabamita Chatterjee | Vjmedia Works | October 28, 2013
The new showroom is the jewellery group's 103rd showroom worldwide.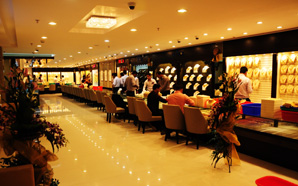 Malabar Gold & Diamonds, the leading jewellery retail chain and diversified business conglomerate, entered the East India market with the inauguration of their first showroom in Kolkata, which is the jewellery group's 103rd showroom worldwide. The showroom has been inaugurated by the internationally acclaimed Bengali film personality Padma Shri Aparna Sen just before Dhanteras and Diwali to reach out to the potential customers during this festive season.
The 3000 sq. ft. outlet is strategically located on Camac Street, a high-end commercial area of the city. O. Asher, Group Executive Director shares, "We have selected this location keeping in mind the target premium segment Malabar Gold caters to and the people of Kolkata who love to wear jewellery. Though it has taken us some time to enter this East India market we felt that now it is the correct moment to expand here. We are very much hopeful that with our varied and exclusive range of products which are designed keeping in mind all the age groups would surely attract the jewellery connoisseurs of the city. This is a very potential market and we are also doing the second level of survey as Malabar Gold & Diamonds would further like to open more outlets in Kolkata and its surroundings. We as a group try to understand the needs of that specific region whenever we expand. This project took us almost one year to complete including the research work that was needed prior to launch."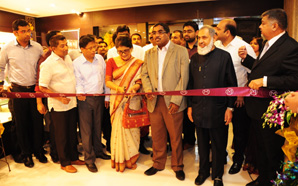 While explaining the reason behind the brand's expansion in this region, Kalyan Ram, Associate Director, Malabar Gold & Diamonds also shares, "The craftsmanship of Kolkata in terms of jewellery is world famous and the manufacturing and wholesaling of such products forms a huge industry in this part of the country. Contemplating that, the retail market has also grown in this region and the Bengalis are very traditional yet fashionable when it comes to jewellery. We are also planning to open 2-3 more outlets in Kolkata itself very soon. This week we have also opened our store in Singapore and are also looking at other overseas market as well especially in the South East Asian countries like China, Hongkong etc. We aim to launch 240 showrooms by 2015."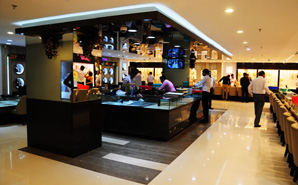 The store displays the exclusive range of traditional and contemporary designs of Malabar Gold & Diamonds collection and also exhibits its sub brands such as Divine - Indian Heritage Jewellery, Era-Uncut Diamond Jewellery, Mine–Diamond jewellery, Ethnix - Handcrafted designer Jewellery, Starlet - Kid's Jewellery and Precia - Precious Gem Jewellery. When it comes to the store experience which the brand is offering, it surely matches with the right ambience reflected through the interior decor of the showroom. Kalyan Ram further informs in this regard, "We have our architect from Dubai who designed this retail space for us and the showroom has been done up keeping in mind the cultural ethos of this particular region which has an inherent feel of its own. This design concept of the store would be further replicated in the other outlets of East zone."
Malabar Gold and Diamonds today is one of the fastest growing jewellery retail chain with outlets spread across Kerala, Tamil Nadu, Karnataka, Andhra Pradesh, Delhi, NCR, Maharashtra, Gujarat, the GCC, Singapore and now in Kolkata with an annual turnover of $ 3.5 billion. The jewellery group further plans to open stores in states like UP, Rajasthan and Punjab for a countrywide representation.