Manish Sharma is now MD, Panasonic India - Consumer and Enterprise Division
By VJ Media Bureau | Vjmedia Works | 1 | April 10, 2013
His elevation is a part of Panasonic strategy of streamlining business structures to increase competitiveness and profitability across the group.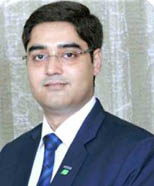 Japan's largest consumer electronics company, Panasonic today has announced the elevation of Manish Sharma as Managing Director of Panasonic India. He will be responsible for the strategic planning, sales & marketing of company's consumer and enterprise divisions with immediate effect. With this, Manish has also been appointed to the Board of Directors of Panasonic India.
Manish, in his previous role, was responsible for driving profitable growth across the entire portfolio of consumer products but in his new role, Manish will now be responsible for the strategic planning, business development and sales & marketing functions of Panasonic India across consumer and enterprise business which caters to the B2B, B2G, and IT segments focusing on system solutions and industrial devices.
Daizo Ito, President, Panasonic India, said, "Panasonic strategy for success in India is based on the three vital pillars - Empowerment, Localization, and Rich Communication. Manish's elevation is an integral part of driving empowerment through localization of Panasonic India's leadership. Manish's career of nearly eighteen years has spanned from hands-on operations to strategic planning and policy where he has successfully demonstrated his ability to deliver in the most difficult circumstances and has built a bright and young team. I would like to congratulate Manish on his new role and wish him all the best for his new endeavour".