Mattel's Marketing Roar
By VJ Media Bureau | September 05, 2018
Mattel Toys' recent in-store campaign brought alive the awe-inspiring Jurassic World with dynamic large displays that are entertaining, inspiring and intriguing at the same time! Point-of-Purchase checks out Mattel 'Atmospheric' marketing roar!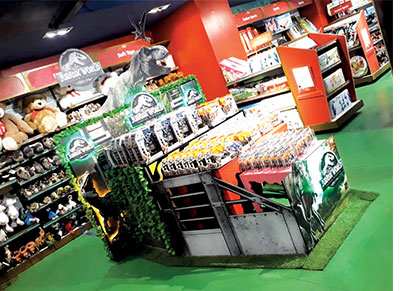 Roaring into dinosaur action with epic new toys, Mattel Toys has always drawn major inspiration from the popular Universal Pictures film, Jurassic World to unveil a wide selection of toys for its young consumers. The company recently executed their latest in-store campaign at 20+ modern trade stores. The use of technology augmented the experience and engagement with the fixture significantly. The campaign was executed by Bangalore-based Fourth Dimension India Pvt Ltd.
Jurassic World immerses the audiences in a believably boundless world where dinosaurs and men co-exist. It takes them on a unique ride that balances awe and trepidation. The immersive experience was brought alive at retail with dynamic large displays that are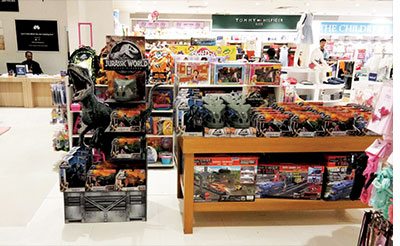 entertaining, inspiring and intriguing at the same time!
The key highlights of the fixture were the light and sound elements - the dinosaur roared at periodic intervals against a backdrop of ambient jungle sounds and surprised the unsuspecting audience. In addition, a VR headset which, when worn by the consumer, re-created the world of Jurassic where she/he could walk alongside dinosaurs or battle them with a digital wand.
The level of execution is based on space and therefore experiential elements are usually installed in large format outlets. The high impact display innovations were executed in more than 20 modern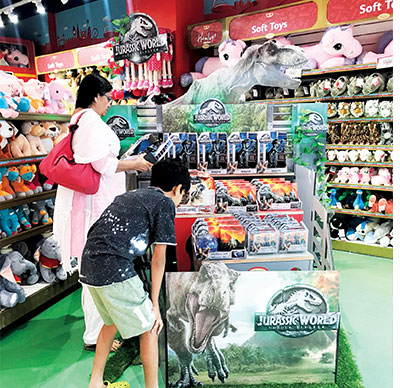 trade stores across Mumbai, Delhi, Bangalore, Pune, Chennai and Hyderabad simultaneously.
"At Mattel we have a portfolio that spans over 30 brands and caters to play and developmental needs for kids and families. We take immense pride in defining the consumer trends with innovative products that offer high quality and deliver engaging play patterns with storytelling seamlessly woven into it," said Renu Nair, Sales Director, Mattel Toys India Pvt Ltd,elaborating on the highlight of the campaign.
"When potential shoppers are out to shop, they witness a lot of clutter with different brands trying to woo them. What you need is the power of experiential marketing and engagement thereof to grab their attention. And hence every brand today is eying to provide that 'aha' moment to its consumers and shoppers. Each modern trade customer, in a category like ours especially, has its own unique way for highlighting a new launch. We decided to own these varying and diverse formats for this launch. We fabricated the windows and front of store nesting tables at Hamleys, Feature Area at Toys 'R' Us, floor standing units at Shopper's Stop and photo-opportunities at Landmark, thus providing a unique and value-added experience for both our customers and shoppers/consumers. We were not done with just this, the narrative and storytelling across these initiatives had to connect back to the content consumers were going to witness in the movie. We took care of replicating the experience and theme seamlessly across all executions," added Renu.
To create a larger-than-life engaging experience for shoppers and to provide a movie-like setting in-store, authentic roaring sounds and ambient noise were picked from the movie directly. Lighting was used to make the dinosaurs more impactful and played with a lot of material selection real 3D foliage to bring out the Jurassic World look.
One thing that stood out is the detailing of the toys – one can relive captivating movie moments and exciting scenes with this line of film-inspired products featuring authentic detailing, amazing design and incredible value. The key role-play item Chomp 'N Roar Mask has realistic details like skin texture and color, teeth and eyes that move inward to focus on prey too. It also makes roaring sound effects when the mask's jaw open to varying degrees.
With the help of sensory experiential tactics, the store's lighting and colour have a huge impact on setting the mood and tone of the store environment. Through proper use of light and sound, the otherwise classical set up was brought to life to deliver a superior customer sensory experience to highlight the products across execution elements.
"We were able to achieve 120%+ of our set target metrics for the launch period across all touch points. The decision to focus our energies on the nesting tables and windows at flagship Toy Stores ensured maximum impact and immediate recall during the pre-movie and movie release month," she said.
On further plans,Renu reveals, "Mattel, in association with the franchise owners Universal, will be activating Malls across different cities in November-December which will engage children and families with the brand."