Mondelez's senior trade marketing professional to join as Panelist at ISA, 2019
By Retail4Growth Team | February 27, 2019
Divya Pande, Regional Sourcing Manager – AMEA- Trade Marketing at Mondelez International, will bring her 10+ years of experience in trade marketing to speak at the ISA 2019 panel.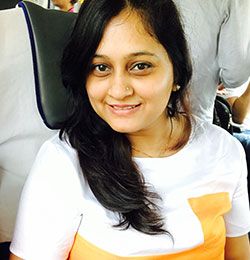 Divya Pande, Regional Sourcing Manager & Trade Marketing – AMEA at Mondelez International, will join as panelist at the knowledge session titled "In-Store Displays : The Buying Evolution & Market Scenario" at In-Store Asia 2019 (now a part of the family of EuroShop Düsseldorf, the world's #1 retail fair), the largest retail experience expo and convention in the Indian subcontinent. The upcoming edition of the event is scheduled to be held during March 14-16, 2019, at Bombay Exhibition Centre, Goregaon, Mumbai.
Divya comes with hard-core procurement experience of over 10 years, having worked across various sectors including hospitality, beverages and FMCG. Her experience cuts across both direct and indirect procurement in country, regional and global level sourcing roles. She leverages her entrepreneurial and marketing skills in her current role as trade marketing spend-lead for Asia and Middle East Africa, focusing on Point of Sale items and Global premiums.
With a penchant for strategic negotiations, Divya has delivered robust cost savings along with enhanced process efficiency in the spends she manages. She also comes with proven ability in developing strong and trusting relationships with both internal and external stakeholders. In her current role, she has been instrumental in introducing the "Managed Service Provider" model as a strategy for sourcing brand activation spends for the first time. It has been hailed as an example in operational excellence and innovation.