Motorola's SIS now at Reliance Digital and MyJio stores
By Satarupa Chakraborty | June 01, 2018
In a bid to bring the entire product portfolio under one roof, CDIT major Motorola has recently tied up with Reliance Digital stores to set up their SIS format, Moto Hub. Launching the first outlet at Reliance Digital store at Ghatkopar, Mumbai, the format will be taken to all Reliance Digital stores nationally.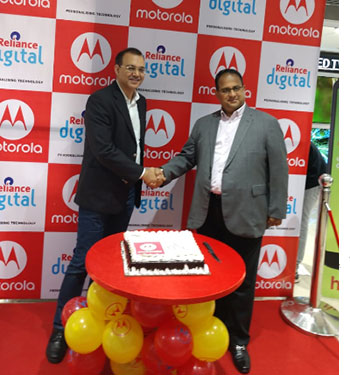 One of India's largest CDIT (Consumer Durables and Information Technology) retail chain - Reliance Digital has recently partnered with Motorola to launch of Moto Hubs to showcase the widest and latest range of Motorola phones at its stores.
The Moto Hub zone offers customers easy access and availability of all Motorola products at one go within the Reliance Digital and My Jio stores; where they will be able to experience the entire portfolio of Motorola devices including the online exclusive devices at convenient locations.
As part of its strategy to consolidate its offline presence, Motorola plans to open multiple moto hubs in Reliance Digital and My Jio stores pan India covering key locations such as Mumbai, Delhi, Bengaluru, Chennai and Hyderabad. The first Moto Hub was inaugurated recently at R-City – Ghatkopar, Mumbai outlet of Reliance Digital.
While inaugurating the first Moto Hub under this partnership, B V Mallikarjuna Rao, Regional General Manager, Motorola Mobility India, said, "We are highly focused on sharing meaningful experiences and engage with customers in a more effective way and our partnership with Reliance Digital is a step further in the same direction. With this partnership, we aim to provide customers with easy access to Motorola's premium products across India."
Elaborating on the association further, Kaushal Nevrekar, CMO - Reliance Digital, said, "Reliance Digital has always been a go-to destination for the latest in technology. Its key proposition being personalizing technology, Motorola products are going to be an exciting new addition to the portfolio. When it comes to shopping for electronics, we know the importance of touch, feel and try, it's only then that our customers can know of the superlative tangible features of the product so that an informed decision can be made. While we have the strength in reach and experience in offering customers personalized technology, Motorola brings in the legacy of unparalleled mobile technology, making this partnership a perfect combination. We share Motorola's vision of providing premium customer experiences and are excited to start off this relationship."