Mr. Pronto now arrives at Namma Metro stations, Bangalore
By VJ Media Bureau | Vjmedia Works | July 18, 2013
The international Shoe and Bag Repair Clinique has now entered the Namma Metro stations in Bangalore with the launch of two Clinique's at Baiyapanahalli and Indiranagar stations.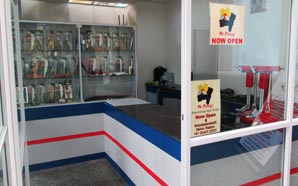 Mr. Pronto, the well known Shoe and Bag Repair Clinique have recently opened its Clinique at Baiyapanahalli and Indiranagar Metro Stations in Bangalore. Mr. Pronto is an international concept which was first introduced 10 years back in Chennai, following which the concept was further taken forward to Delhi. The brand presently has 12 outlets in the 3 cities across India.
Abhishek Dhingra, CEO, Mr. Pronto said, "We are happy to announce the opening of our 12th outlet and 5th in Bangalore. Mr. Pronto already has very good customer base with its 3 outlets in Mantri Mall, Forum Mall & Forum Value Mall. Further elaborating on the launch, he said, every house has couple of shoes and bags which need repair. The main reason we have set up in Namma Metro Stations so that people can get their shoes or bags repaired while they wait at the station or can drop off their shoes/bags while going to office and pick it up on their way back home. In fact, customers used to courier their shoes to get it repair, before we started our outlets in Bangalore and opening clinics at malls proved a money-spinner both for Mr. Pronto and the malls." Further elaborating Abhishek said, "We have developed our technicians by putting them through intensive training in a structured environment of international standards."
Mr. Pronto offers professional repair of all kinds of ladies and gents shoes like leather shoes, sports shoes, sandals, formal and informal shoes along with repairs of all kinds of bags and services which include resoling of any kind of shoes, expansion, orthopedic adjustments, sole pasting, polishing, trolley changing, zip changing etc.
The brand also offers a range of merchandise in its stores like arch support, insoles, suede cleaner, leather cleaner of high quality.