M&S plans retail expansion in India with Reliance Retail
By VJ Media Bureau | Vjmedia Works | November 12, 2013
The leading apparels brand partners with Reliance Retail to plan a major expansion strategy in India targeting 80 stores by 2016 to become leading a international, multi-channel retailer in India.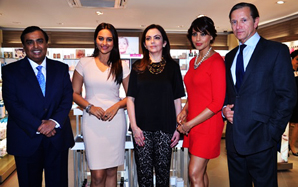 Marks & Spencer (M&S) plans its expansion plans for India, targeting around 80 stores in the market by 2016, as part of its ongoing strategy to become a leading international, multi-channel retailer. The plans to double its presence in India with its partner Reliance Retail will see the country become M&S's largest international market outside of the UK.
Marc Bolland, M&S Chief Executive, said, "India is a priority market for M&S and working closely together with our partner Reliance Retail we have set a clear plan to build a leadership position here. As the nation's leading retailer operator, Reliance Retail is the perfect partner for us in India with extensive local expertise and experience, with strengths in infrastructure, logistics, technology and property." Further adding on the same lines, he said, "This combined with M&S's brand loyalty and exceptional quality, stylish products, has seen us continue to deliver strong double digit growth in India. Now with 36 stores, we have the ideal platform to accelerate our growth in the market and see India become our largest international market outside of the UK by 2016."
Sriram Srinivasan, Business Head - Apparel Reliance Retail, said, "We have successfully partnered with Marks & Spencer over the years to combine Reliance Retail's expertise in retailing and understanding of the Indian marketplace with Marks & Spencer's legendary product development capabilities to deliver a delightful experience for Indian consumers. We look forward to our continued engagement with Marks & Spencer towards the development and strengthening of our presence in India."
As one of its priority international markets for growth and a key sourcing hub, M&S's strategy for India comprises:
Continuing to work in close partnership with Reliance Retail targeting around 80 stores in India by 2016
Focusing on building a leadership position in India including in cities such as Mumbai and Delhi by opening a cluster of supporting stores around its flagship store locations such as its new store in Bandra
Expanding into attractive secondary cities such as Surat and Kanpur
Capitalizing on the growth opportunities in lingerie and beauty in the India market
Maintaining M&S's local sourcing of exceptional quality products from South Asian suppliers
Since M&S formed its joint venture partnership with Reliance Retail in 2008, the retailer has built a solid platform to accelerate its growth in India. Since April 2013, M&S has already opened seven stores in India including doubling its presence in Mumbai and entering the cities of Kochi and Vadodara for the first time. M&S now has 36 stores in India, trading from a total of over 500,000 square feet. As part of the retailer's plans take its business in India to the next level, M&S will open a further eight stores by the end of March 2014, followed by a further 36 stores in the next two years.