Myntra's private label business turns profitable, contributes 25% to sales
Vjmedia Works | September 01, 2017
The private brands became EBITDA profitable for the first time in June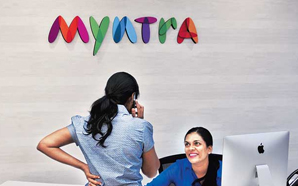 Flipkart-owned online fashion retailer Myntra on Thursday said that its private label business, which has a revenue run rate of $300 million will help the company turn profitable by March 2017.
The thirteen private labels, which includes brands such as Roadster, Hrithik Roshan's HRX and Deepika Padukone's All About You, currently contribute around a quarter of the sales on Myntra's platform and is operating at an earning before interest, tax, depreciation and amortisation (EBITDA) level of 5 per cent.
"The private brands became EBITDA profitable for the first time in June and we're on an overall profitability journey. We are growing at about 100 per cent year-on-year with Myntra Fashion Brands. It's the first step in our overall journey to profitability," said Ananth Narayanan, CEO of Myntra.

The company said profits of its private label business were driven by utilising technologies such as Artificial Intelligence (AI) to determine designs and even prices of products. Moreover, the company said it also streamlined sourcing and standardised product lines, thereby boosting the already high margins that private labels enjoy.
Going forward, Myntra says it will look to increase exposure of private labels to around 35-40 per cent of its overall revenue. While the overall revenue driven by third-party brands on its platform will continue to grow, Narayanan said their share will come down in the next 12-18 months on account of faster growth of private brands.
"We also have a lot of consumer data which has helped us identify white spaces to start new brands. These factors, along with the basics of getting designs right has really driven profitability. We've gone from $150 million in revenue from private brands last year to $300 million this year," added Narayanan.
Out of the $300 million from in-house labels, Roadster, the best selling brand on Myntra's platform, contributes around $100 million. The company is also evaluating the elevation of its private labels Dressberry and Mast and Harbour to a national brand level, which will further help boost margins.
Despite parent Flipkart sitting on a cash pile of over $4 billion, Myntra says it wants its business to run at an operational break-even level. Narayanan said that the company continues to look at making strategic investments in the form of acquisitions on both the technology and business fronts.
Myntra's path to profitability plans come also as US-based rival Amazon has been investing heavily in growing its fashion categories. Amazon too has launched two private labels, one serving men and the other women, in India and has brushed away Flipkart's claims that it controls 70 per cent of the online fashion market in India.