Nitco Le Studio: The elegant emporium
By Dipanjan Mukherjee | Vjmedia Works | June 10, 2013
The swanky new showroom has unique room décor display concept which helps customers visualize the products in an actual home setting.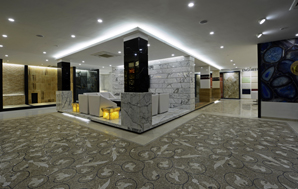 India's leading flooring and interior aesthetics solutions provider, Nitco Ltd, inaugurated'Le Studio', an exclusive 2600 sq. feet showroom in Kanjurmarg, Central Mumbai. Keeping true to its core values of innovation, product quality and customer service, the store's ambiance has been designed to provide an exceptional experience to its customers.
Commenting on the showroom inauguration, Vivek Talwar, MD - NITCO Ltd said, "Our new showroom has been in the making for a long time to ensure that the concept, tone and look of it is true to Nitco's aesthetic level. We wanted the shopping experience to be the very best for our customers. The showroom features never-seen-before designs and concepts. We are very excited with what we have created and the easy access to the brand."
The impressive emporium displays Nitco's exhaustive range of floor tiles, wall tiles, imported marble and mosaico. Their unique room décor display concept helps you visualize the products in actual home setting. The stunning room décor depicting living rooms, bathrooms & kitchens gives a perfect idea as to how the product will look when laid. This surely sets Nitco's Le Studio a class apart from any regular display rack showrooms. On the occasion, Nitco also unveiled its new collection of wall tiles for the first time in India.
The showroom is also in close proximity to one of Mumbai's biggest marble yards (Nitco Marble yard), which helps customers select from rich and rare collection of floor and wall covering products.
Being a trendsetter in the floor and wall category for designs, Nitco's endeavor has always been to provide the latest technology and the best product quality, this is all achieved by the state of the art automated tile plant in Alibaug for and its Automated fully-integrated marble plant in Silvassa. To help the customers visualize and a space where the architect can experience the collection, NITCO's flagship store Le Studio has always been the store of choice by the fraternity.
Currently, Nitco Group has a wide spread and well established network of 800 dealers and 5000 sub dealers spread over India. The company owns 16 exclusive showrooms under the brand name'Le Studio' at Mumbai (3), Pune, Nasik, Ahmedabad, Indore, Jaipur, Kolkata, Chandigarh, Cochin, Coimbatore, Chennai, Bangalore, Delhi and Hyderabad.