Omnichannel retailing to drive growth in India
By VJ Media Bureau | June 26, 2015
In the recently concluded Trends in Retail Summit 2015 organized by ET Edge, an Economic Times initiative, government officials and retail and banking honchos discussed key trends, business and government policies of the sector.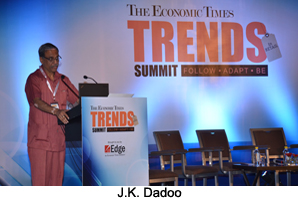 It is a renowned fact that the economic scenario in India has significantly transformed over the past 2 decades largely due to the retail sector. The retail market is set to double in 2016-17 from Rs 23 lakh crore in 2011-12. This growth will be spurred by mutual growth of both offline and online channels of retailing.
"Omnichannel retailing is the way to go in India. All retailers have a big market, nevertheless, organized retailers will have to find local relevance," said J.K. Dadoo, Additional Secretary, Ministry of Commerce & Industries in the recently concluded Trends in Retail Summit 2015 organized by ET Edge, an Economic Times initiative. Talking about investor interest in the retail sector, he added "With the changing trends, we will see more interest by investors too. The Indian government is keen to allow FDI in B2B e-commerce."
During the Summit, Abheek Singhi, Sr. Partner and Director, The Boston Consulting Group (BCG) opined, "Shopping is an occasion which needs to be cherished and is a combination of mobile, social and human connection. Today consumers are in control of the shopping experience."
Echoing his views, Govind Shrikhande, MD & VC of Shopper's Stop said, "The four D's that count at present are Demographics, Disruption, Digital and Data Analytics. Living in the generation of millennials, mobile and social commerce will shape the future of shopping."
These trends and much more was discussed during the Trends in Retail Summit 2015. Speaking about the success of the Summit, Deepak Lamba, President, Times Conferences Ltd. said, "It's a delight to see the interest and enthusiasm of so many professionals to learn about the growing retail trends in India. Given the recent boom in the sector, e-commerce is capturing almost all retail sale, however, brick-and-mortar stores will never go out of fashion. Furthermore, digital wallets will help the country transform into a cashless economy."
The Summit witnessed presence by more than 120+ professionals from the retail, banking and marketing sectors. Key trends, business and government policies were discussed by government officials, retail and banking honchos.
The Summit took place on 25th July 2015 in Hyatt Regency, Mumbai.