OMVED Therapies launches a new store in Vashi
By Retail4Growth Team | November 12, 2019
The brand has a total of four store presence in 3 cities – Mumbai, Bangalore and Hyderabad and plans are afoot to spread its wings in ten new cities.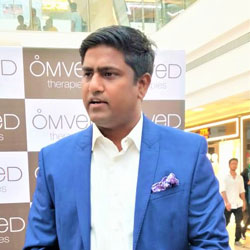 OMVED Therapies Private Limited, India's first safe cosmetics pledge signee and only vegan ayurvedic brand, inaugurated its new Mumbai flagship store at Inorbit Mall in Vashi. Spread across 150 sq ft, the store offers the brand's results-based whole range of Ayurvedic natural skincare, aromatherapy and wellness therapy products founded on the ancient healing heritage of India.

OMVED Therapies is the venture of the J E Hammer Group, a privately held multi-national, multi-business German conglomerate, that offers over 100 + organic, non-toxic handmade products made by local artisans and tribal craftsmen.

First launched in 2010, OMVED Therapies has strived to create high quality, ethical, and beautifully packaged organic products. Vaasu Birudukota, Director and COO, OMVED said on the launch, "Opening up in Vashi is really special and I am delighted we managed to do this in 2019. This part of Mumbai – a fashion and lifestyle destination of the country – caters to a varied segment of society, and people have a natural penchant towards organic and wellness products; believe in a healthy virtue of living, and with OMVED Therapies now, they can experience the whole new meaning of 'Pure & Authentic' Ayurvedic products , closer to their home."

OmVed Therapies has a total of four store presences in three cities – Mumbai, Bangalore and Hyderabad and plans to spread its wings in ten new cities. "As part of our expansion strategy, we will be looking at opening more stores at the airports, boutique hotels as well as spa resorts. However, we will continue opening stores in malls which cater to the premium class as well as in tier-II and tier-III cities," said Birudukota.

The lifestyle brand allocates a significant amount of its resources in terms of finance, manpower, and time for online marketing. Its objective is to have a well-synergized brick-and-click business model. "We have a dedicated team who looks after the digital and social media marketing. Realizing the power of the Internet, we have extremely high traction through various e-commerce platforms. Part of our customer base is situated outside India and through our e-commerce site we are able to cater to our overseas market and get the brand at their doorsteps," he added.