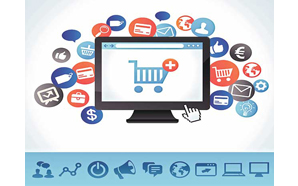 E-commerce has been the biggest disruption in the retail sector but brick and mortar is here to stay. That was the theme at the India Retail Forum, participated in by some marquee names in the space, here on Tuesday.
Rakesh Biyani, joint managing director, Future Retail, said, "Everything cannot go digital. Physical format stores are here to stay. We still see a footfall of 4.5 million people when we hold Wednesday bazaar at our retail stores. In evolved markets, maximum number of customers are coming back to the stores."
But, consultants say with the arrival of e-commerce, the Indian retail sector has undergone a huge shift, accentuated by a change in consumer buying behaviour. According to a PricewaterhouseCoopers (PwC) survey, 53 per cent of retailers said they have thought of changing the operating model, driven by changing consumer behaviour.
The survey also stated 51 per cent of retailers feel the biggest challenge was creating a differentiated model, with only 18 per cent stating this was being driven by the disruption caused by on-line retailers.
Traditional physical format biggies like Walmart have faith in brick-and-mortar, though it is competing with big e-commerce players, including Amazon, in the US. Krish Iyer, president and chief executive, Walmart India, said, "Online will definitely catch on, but physical retailing will not get eliminated." He added while the focus on manufacturing is important, future growth for India will come from the services sector.
"I think the key is the focus on ease of doing business. As a representative of a foreign company operating in the country, I can share in the past one year, I have seen a very significant focus from all the state governments as well as central government in the area of doing business," said Iyer.
According to the PwC survey, the operating margins of online retail players are a negative 15-22 per cent, compared to the six per cent to eight per cent among the mom-and-pop retail players, and two per cent to four per cent among the organised retail players. "Ebitda (earnings before interest, tax, depreciation and amortisation) margins of Indian retailers have dropped to two per cent in 2014 from eight per cent in 2011. During the same period, Ebitda margins of select international retail chains such as Walmart, Target, Tesco and Home Depot maintained seven per cent to 11 per cent," said Anurag Mathur, retail and consumer goods practice leader, PwC India.
The survey also highlighted that about 65 per cent of Indian retailers are focusing on improving profitability through improvement in revenue throughput as fast changing consumer behaviour is driving many retailers to rethink their business models. In the survey, 53 per cent of retailers are considering a change in their operating model driven by changing consumer behaviour.
Iyer who is also the chairman of the India Retail Forum, said that retail needs to be recognised as an industry. "Unfortunately, at this point of time, retail is not recognised as an industry and that will go a long way in making cheaper finance accessible to even the small kirana stores and everyone else in retail."