Over two dozen failed malls up for sale in metro cities
By Chaitanya Muppala | Vjmedia Works | February 17, 2014
Navi Mumbai has the highest number of malls up for sale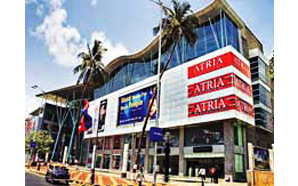 Faced with a slow economy, low footfalls and, in most cases, high vacancy levels, about two dozen malls across Mumbai, Delhi/NCR, Bangalore and other cities have been put on the block by their respective developers/owners to raise funds.
An estimated 120 new malls have come up in the country over the last two years, of which 30-40 have either shut down or became non-functional due to poor footfalls and poor management, mall consultants say.
Navi Mumbai, the well-planned satellite town of Mumbai, has at least four such cases of not so successful malls such as Palm Beach Galleria, Centre One, Gold Souk and Wedding Mall where owners/investors are looking to exit.
"All tenants have left the mall due to the prevailing economic situation and the mall is empty, except three to four tenants. If we get a good price, we will look at (selling) it," said Vijay Lakhani, who bought the Palm Beach Galleria Mall in Vashi along with his partner Vijay Gajra from another developer Deepak Raheja.
Gold Souk and Wedding Mall are examples of malls that failed to take off after they were pre-sold to investors during construction. In fact, Wedding Mall spread over 30,000 sq ft, was planned to accommodate stores to cater to all shopping needs linked to weddings.
Part of Gold Souk mall, a 36,000-sq ft property, is already being converted into a fashion institute, where 400 students study.
Around 70 owners/ investors in Gold Souk and 50-odd investors in Wedding Mall are looking to sell, says Mohanjit Singh, proprietor of New Mumbai Realty and president of Navi Mumbai Association of Realtors.
The most talked about case in the Mumbai property market is the proposed sale of high-end mall Atria in South Mumbai, expected to fetch Rs 1,000 crore for the three owners. About half of the mall is said to be empty. But when contacted, a co-owner of the mall, Chetan Shah, said it was just a rumour and the property was not for sale.
However, Mumbai is not the only place where malls are being put on the block. Last November, London Stock Exchange-listed Plaza Centers sold Koregaon Park Plaza in Pune for $54 million to an undisclosed buyer. The project was a joint venture between Plaza and a Pune-based developer.
At least four to five such malls in Delhi/NCR, especially in the areas of Rohini, Vasant Kunj, Pitampura and Gurgaon, are lying vacant and looking for buyers, says Bappaditya Basu, senior vice-president at property consultant Jones Lang LaSalle.
Many mall developers have converted their projects into residential and commercial ones due to unviability, retail consultants say.
Mall developer Prozone Liberty has converted a part of its retail projects into residential for better business prospects. The south-based TTK Group changed its plan for a mall project on a 6.3-acre site in Dooravani Nagar, Bangalore, into a residential project a couple of years ago.
"Single mall owners have realised that malls are not their forte and they are willing to sell their asset," says Susil Dungarwal, founder and chief mall mechanic, Beyond Squarefeet Advisory, a mall management company handling four to five such mandates to sell in Bangalore and Mumbai.
However, Dungarwal declines to name the properties, saying the company has signed non-disclosure agreements with owners.
Adds Anand Sundaram, chief executive of mall management company Pioneer Property Zone, "Owners of many malls in the country have sent feelers to the market that they would like to dilute their stake in the properties. Investors are also equally interested in malls that have good potential."
Sundaram says his company is handling five such transactions in cities such as Bangalore, Pune and Chennai but declines to divulge names. "We are looking for buyers who have a long-term view of the retail sector."
According to him, investors such as GIC, Morgan Stanley and Abu Dhabi Investment Authority (ADIA), among others, are looking to invest in malls and will firm up plans after the elections.
"Investors are looking at such malls as can be turned around in a reasonably good time," says Sundaram.
A PROBLEM OF PLENTY?
* Over two dozen failed malls in Mumbai, NCR and Bangalore on the block
* Navi Mumbai has the highest number of malls up for sale
* Around 120 new malls have come up in the country over two years - a third of them shut
* Many malls converted into residential or office projects
* New mall projects delayed by six months to a yearSource: Industry estimates