Panasonic, Lenovo's retail bets
Vjmedia Works | March 23, 2015
With eyes firmly on the smartphone market, both brands will ramp up distribution and try new concepts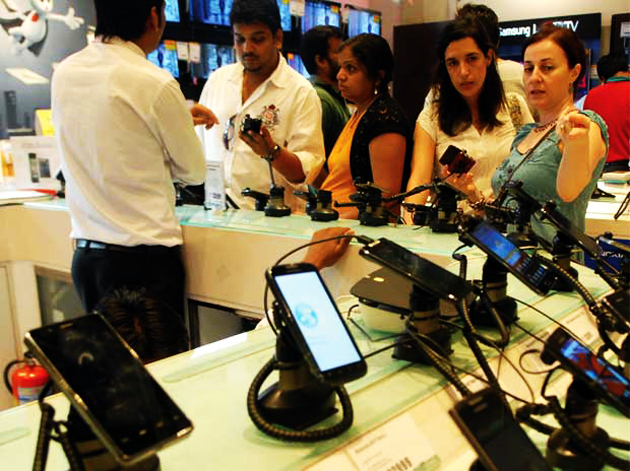 Two brands trying to get a bigger foothold in India's smartphone market recently announced plans to expand their retail presence, strongly leaning on exclusive stores and e-commerce.
The Japanese Panasonic and Chinese Lenovo are both in the process of bolstering their retail strategies. While the new stores would help their wide-ranging product portfolio, their smartphone fortunes would be paramount.
Lenovo India is planning to triple its retail footprint. Run by franchisees, Lenovo has 400 stores which are branded as Lenovo stores, besides 3,500 outlets where its products are available. In the next three years, Lenovo will add to its branded stores - Lenovo Exclusive Stores (LES) and Lenovo Exclusive Store Lite (a smaller version for lower tier towns). While 30 per cent would be LES, the rest would be the LES Lite model.
Lenovo India MD Amar Babu says it would look at setting up own-branded stores, which are to be found in China. These stores showcase products and solicit customer feedback but do not sell products.
Panasonic plans to open 100 more brand shops in the next three years, which will be 1,000-1,500 sq-ft, handled by franchisees. It would also focus on its e-stores. Panasonic sells through 264 exclusive brand shops, 1,200 direct dealers, 185 local chain stores and 12,000 sub-dealers.
Smartphone focus
The retail expansion plans of the two brands will help prop up their smartphone businesses, which is a priority for both.
Panasonic, wants to earn revenue of $4.8 billion by 2018-19 (up from $1.65 billion in financial year 2013). Manish Sharma, managing director, Panasonic India & South Asia, says that the contribution of its retail business is around 60 per cent, and growth in revenue will come primarily from smartphones and its energy solutions (B2B).
For Lenovo, the expansion will aid its vision to be a market leader in PCs, smartphones and the enterprise segment. The contribution from smartphones and tablets increased for Lenovo in the third quarter of 2014-15, from an erstwhile 15 per cent to 24 per cent.
The share of PCs and laptops decreased from 85 per cent to 65 per cent (including Motorola, which Lenovo acquired in October). The balance was from its server business established a year back.
Market share
Panasonic, industry sources say, has earned 2-3 per cent market share in smartphones so far. The electronics major exited its global smartphone business in 2013 but entered the Indian market in the same year. It will bolster its retail expansion by launching five to six smartphones every quarter.
Babu of Lenovo reckons that the revenue mix from smartphones is higher in India as it is one of the few countries where sister brand Motorola also sells (3 million units in 11 months).
He claims, "If we combine both the brands, we are number three in smartphones, with almost 8 per cent market share in the third quarter." Lenovo smartphones have had six quarters in the market.
Stores as mascots
Both the brands are looking at distribution to double as brand-building tools. While both have celebrity endorsements, they feel their concept retail stores will have a positive halo.
While Lenovo and its sister brand Motorola will look at own-brand stores (Motorola will even have mobile trucks) that won't sell devices but showcase and troubleshoot for users, Panasonic, too, says brand stores will help it showcase not just its smartphones but its entire portfolio.
Lenovo's Babu says, "This is also a game of brand and distribution. We are in the process of building the brand," while Panasonic's Sharma says that brand shops are a good business model for its diversified portfolio of products. These stores can showcase the product strengths, besides establishing a direct connect with the consumer.
Besides tactical advertising (offers etc.), Panasonic will also spend Rs 125 crore on brand building from its total ad budget of Rs 400 crore this year. Around 20 per cent of digital marketing spends will be used for e-commerce.
Digital concepts
Panasonic's e-store (www.mypstore.in) has already been put up. Sarthak Seth, head brand and marketing communications, Panasonic India, says that the e-store, up since 2014, contributes 2-3 per cent already. Seth says, "We believe that both the platforms, online and offline will coexist."
Seth also says that smartphones and Panasonic's B2B business will see increased marketing spends compared to last year.
Lenovo follows an online-only model for Motorola that has an exclusive tie-up with Flipkart. Lenovo, for its stores that used to sell only PCs earlier, is moving towards smart connected devices, where all the gadgets would talk to each other, for a holistic demo for the consumer.
The challenge for a larger digital footprint, feels Seth of Panasonic, would be the supply chain that would need improved customer support and experience, logistics and with the increased competition, address the price wars.