P&G stabilises its operations in India
By Dinesh Jain | May 30, 2016
Latest financial results of its listed firms show it is slowly but steadily bouncing back in the country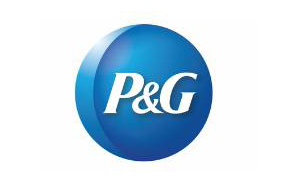 The world's largest consumer goods company, Procter & Gamble (P&G), appears to be slowly but steadily getting its act together in India, after announcing recently that it was moving away from unprofitable businesses.
The latest financial results of Gillette India, one of its two listed companies, had it reporting double-digit revenue growth for the three months ended March, after consecutive quarters of single-digit growth (see chart).
Procter & Gamble Hygiene and Healthcare, the other listed company, reported double-digit revenue growth for a second quarter in a row. Its earlier single-digit sales growth was for the three months ended September 2015. Both listed entities follow a July-June accounting period. Results for a third firm, Procter & Gamble Home Products, are not available in the public domain.
On profit, Gillette reported triple-digit growth for the March quarter; P&G Hygiene and Healthcare reported double-digit growth.
A company spokesperson, when asked, said, "India remains a critical market for P&G. In the past 18 months, P&G India has become profitable. The value-accretive results that India has delivered have contributed positively to the health of the parent company."
In an analyst call last month, its global finance head, Jon Moeller, said the firm had made a choice to de-prioritise several unprofitable lines of business which negatively impacted short-term revenue growth rates in India.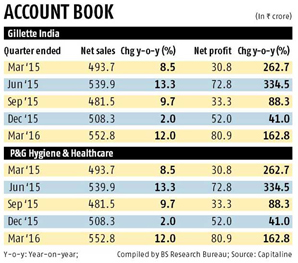 "The strategic portion of our India business is growing at a high single-digit pace. Sales in the portions we're fixing or exiting have been down more than 30 per cent. This top line pain is worth it. We're making significant progress in improving local profit margins, up about 700 basis points," Moeller had said.
Strategic categories for P&G in India include baby care, where it has the Pampers brand; male grooming, where Gillette sits; feminine care, which includes Whisper; health care, which includes Vicks; fabric care, which has detergents such as Ariel and Tide; skin care, with brands such as Olay, and hair care, which includes products such as Pantene and Head & Shoulders.
Abneesh Roy, associate director at Edelweiss Financial Services, had said in a report last month that P&G would probably exit Duracell (batteries), AmbiPur (air fresheners), Old Spice (men's after-shave lotion) and Oral-B toothpaste in India. "Also, it could defocus on lower-end Tide (detergent) and Wella (hair care products)."
The company has in the past few quarters attempted to move away from lower priced stock-keeping units in detergents and cut shampoo prices by 25 per cent to shore up domestic market share, analysts said.
The firm, which crossed Rs 10,000 crore in turnover in the financial year ended June 2015, is among the top three in most of its core categories. The spokesperson said P&G would continue to focus on core brands and variants in India, in line with global strategy.
Internationally, P&G is exiting 105 brands. These include Duracell batteries, which it sold to Berkshire Hathaway, and 43 beauty products which it sold to New-York-based Coty Inc last year.