Pitter-Platter unveils first flagship store in Kolkata
By Nabamita Chatterjee | Vjmedia Works | 6 | August 28, 2013
The brand plans to expand with 10 such exclusive flagship stores by 2015 across different metros in the country.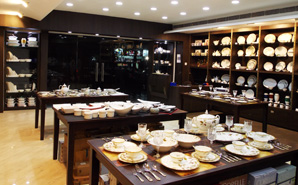 Located at the most prominent location in Kolkata at 22 Camac Street, Pitter-Platter, a'simple yet expressive' crockery store is conceived by Jyoti Goenka, an entrepreneur, who after having stayed for 25 years in Singapore felt the need for a premium tableware store in the city. Spread over an area of 1000 sq.ft., Pitter Platter houses top-end brands like Grey Rose, Corelle, Noritake, Pyrex, Visions & Corningware with a range from platinum/ 24k gold plated dinner plates, to crystal d'arques glasses giving the complete touch and feel of fine dining at home.
"This project is very close to my heart. I am delighted to launch a unique one-stop-shop for tableware in Kolkata. The city has been missing a store where one can find a mix of both variety and sophistication in crockery under one roof. Pitter-Platter is for people who appreciate finesse and understand the art of eating is as much about presentation as about the food. Through this store I hope that I can beautify a lot of kitchens and bring grandeur to all celebrations," said Jyoti Goenka, Owner of Pitter-Platter.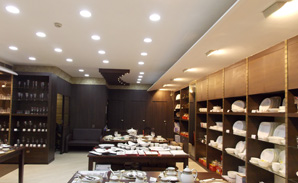 For the customers, Pitter Platter has something to offer for every celebration; be it parties, sit down dinners or trousseau shopping. The ambience is ideal for people who are looking for a complete shopping experience and their target segment includes homemakers, hotels & restaurants, in-flight caterers by providing a variety of statement pieces of tableware such as white porcelain ware, bone china and glassware. Pitter-Platter has planned to open another store in the southern part of the city very soon. Further, the brand aims to expand its retail footprint with ten such exclusive flagship stores within 2015 across different metro cities such as Mumbai, Delhi, Bangalore, Hyderabad, and Tier I places like Jaipur and other such potential markets.