POPAI India OMA Awards: Merchandising at its best
By VJ Media Bureau | Vjmedia Works | February 21, 2013
The main objective of OMA Awards is to recognize the talent and skill in designing, production and presentation of in-store advertising.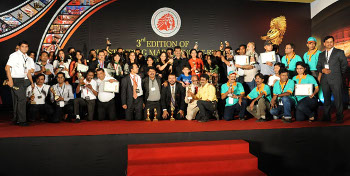 The Point of Purchase Advertising International- India (POPAI India) hosted the 3rd edition of Outstanding Marketing-at-Retail Achievement (OMA) Awards during In-Store Asia 2013 at the Bombay Exhibition Centre in Mumbai on February 21, 2013.
The event brought together brand marketers, retailers, design firms, advertising agencies and the marketing-at-retail industry as a whole. This event seems to be growing by the year. For example, this year 207 entries were received from 29 companies as against 108 entries from 22 companies last year. Adding to this, the categories too have expanded this year totalling 14 and classified as: Modern Trade - Permanent and Temporary (sub division) & Traditional trade.
A total of 20 Gold, 22 Silvers and 18 Merit awards were given away in 24 categories. Additionally, three Display of the Year Awards were presented to Loreal Gold LOOK done by Vista Retail (Modern Trade - Permanent), Microsoft - Virtual Assistance done by resync - Classic Retail Imaging Solutions (Modern Trade - Temporary) and Minute maid juice activations done by : Studio Thorn Integrated Promotions Pvt. Ltd (Traditional Trade)
POPAI, a world renowned global association of marketing-at-retail has been holding the prestigious OMA Awards worldwide over 50 years. The awards recognise the most innovative, engaging, and effective displays at retail.
The OMA Award jury panel comprised of brand marketers, retailers, shopper insights professionals and POP designers. The first phase of the judging was completed online. The second phase of judging was completed on the POPAI India show floor where all the shortlisted entries (by online judging) were displayed on the show floor and judges evaluated these displayed entries for final result. This was the first time that onsite judging was done.