Premium watch maker Sevenfriday enters India
Vjmedia Works | April 14, 2014
Company expects to sell nearly 1,500 pieces by June 2015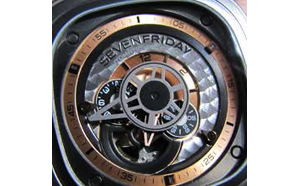 Zurich-based premium watch manufacturer Sevenfriday has made a foray in India and expects to sell nearly 1,500 pieces by June 2015, a senior company official said.

The company has so far sold nearly 100 pieces in India through online platform but has now entered the market by setting up an exclusive store--Excedo Luxuria--in Delhi and is tying up with retailers across the country.

"As such we had a presence in India through pre-orders and exclusive preview from the online platform. But with the growing response for our watches, we have now decided to go deeper in to this market," Sevenfriday Director Aniruddha Karanjekar told reporters here.

The first store will come up by June, he said, adding, "In the first leg, we will penetrate our presence in five major cities like Mumbai, Delhi, Kolkata, Ahemadabad and Bangalore. We are in talks with retailers and within a year of operations, we expect to sell nearly 1,500 units." The company has so far sold its P-series watches with prices ranging between Rs 80,000 and Rs 92,000. Sevenfriday also plans to introduce its M-series watches in India by June.

"We have already taken orders in India for the M-series watches and now we will also make them available through our retail stores," Karanjekar said.

Sevenfriday also plans to expand in tier 2 cities, he said.

"Indian consumers today have become more aware and put exclusivity and uniqueness over price. Having received tremendous response across the globe, we are confident our products would be well received by watch aficionados in India as well. Therefore, we have decided to expand our presence in the tier 2 cities as well," he said.
Business Standard